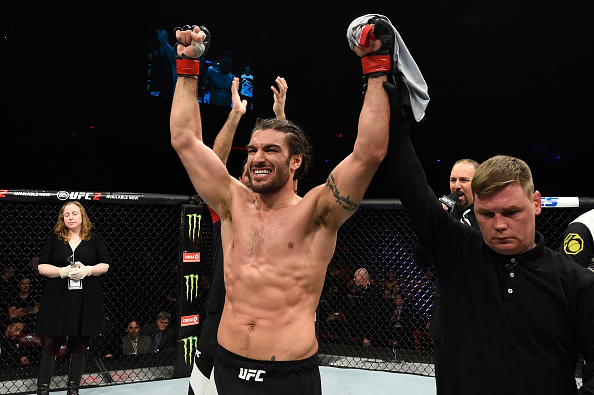 Over the course of his 18-fight career,
Elias Theodorou
has competed 12 times in Canada. He's made three appearances in Hamilton and Halifax, two in each of Calgary and Quebec City, and single stops in Windsor and Ottawa.
In terms of the six times he's ventured beyond the borders of his home and native land, the middleweight has traded punches and kicks in Las Vegas twice, as well as having stepped into the cage in Cleveland, Dallas, and Sydney, Australia. Last time out, Theodorou traveled across the pond to Liverpool, England, where he pushed his record to 16-2 overall by picking up a unanimous decision win over
Trevor Smith
.
This weekend, the charismatic contender finally gets the chance to compete at home in Toronto when he squares off with
Eryk Anders
on the preliminary card portion of Saturday's UFC 231 pay-per-view event at Scotiabank Arena.
"It's an amazing feeling, in that everything is coming full circle," said Theodorou. "Obviously, I fell in love in mixed martial arts and the fighter's journey — the ability to travel and train — and I fought in Liverpool for the last one and the one before that was in Sydney, Australia, which is a big reason why I fell in love with mixed martial arts, but bringing it back home really feels like it's coming full circle.
"Plus between friends and family, I have about a thousand people that are coming on Saturday to watch me, and half of those are Greeks."
Ironically, it's Theodorou's willingness to compete anywhere he's needed that ultimately led to this chance to step into the cage in front of family and friends this weekend.
In early August, it was announced that "The Spartan" would travel to Sao Paulo, Brazil for a matchup with surging submission ace
Antonio Carlos Junior
. But a month before the event, the Brazilian was forced out of the bout and rather than finding a replacement to face Theodorou in South America, the pairing remained intact and was shifted to this weekend's event in "The Six."
Two weeks later, Carlos Junior disclosed that he needed surgery to repair the injury that forced him from the card in Sao Paulo. After having volunteered to face Theodorou in Sao Paulo when the Canadian's initial meeting with the former TUF Brazil winner was scratched, the athletic former linebacker from Alabama was quick to claim the spot opposite the TUF Nations middleweight winner when the Brazilian was once again forced to the sidelines.
This meeting with Theodorou is one that Anders has been chasing for well over a year and on Saturday night, the popular hometown talent intends on making "Ya Boi" regret his decision to call him out multiple times.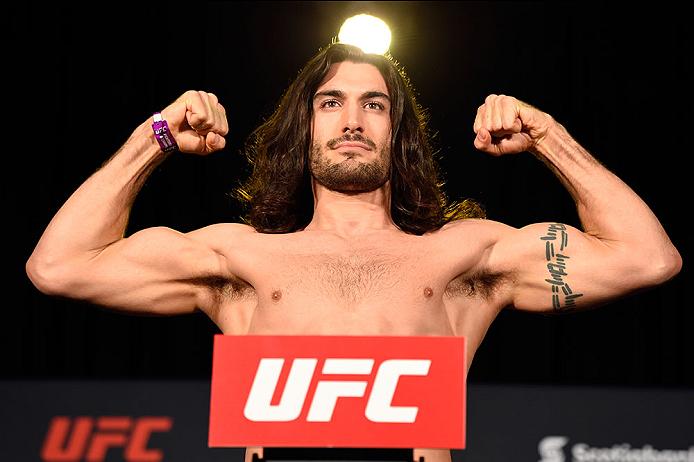 "There is a reason why he's calling me out — I'm in the place that he feels he should be — and while he's not the first person to call me out, he's the first one to actually fight me after he's called me out," said Theodorou. "He's a tough individual and it's no secret what he's going to try to do — he's going to try to knock my block off — but I'm going to show him the difference between chess and checkers."
After pushing his record to 9-0 with a first-round stoppage win over
Rafael Natal
in his promotional debut, the powerful and athletic Anders has alternated wins and losses over his last four fights, landing on the wrong side of the result in matchups with Brazilian veterans
Lyoto Machida
and
Thiago Santos
, while registering wins over
Markus Perez
and
Tim Williams
.
Though Anders has garnered more attention and served as a main event combatant in two of his last three outings, Theodorou hasn't been particularly impressed with what he's seen from his opponent, primarily in terms of the fights he's won and whom he's beaten since arriving in the UFC.
"I think he's a very tough individual, but he's very green right now," offered the 30-year-old Canadian, who enters Saturday's matchup on a tidy two-fight run of success and having won four of his last five. "He's new to the sport and diving deeper than some of his prior fights (might warrant).
"There were a couple of tomato cans here and there, but I just think what he's been able to accomplish in the UFC in terms of his wins — he won, which is the most important thing, but (Markus) Perez took that fight on a couple days' notice and he barely beat him. I would say he was losing to Tim Williams before he soccer-kicked his head into the stratosphere and then Natal, he was on a three-fight losing streak and retired right after, so that guy was already looking for the exit.
"He's a 3-2 fighter (in the UFC) and I'm about to make him .500," he added. "He comes from a football background and a .500 record isn't a good record. I'm just going to do me and, for the most part, I've always found a way to win and that's what I plan on doing."
And while every victory is a joyous moment, collecting another win on Saturday evening would be everything to Theodorou because he would get to share it with the people who have supported and encouraged him throughout his career.
"I'm very lucky that I only have really positive influences in my life, so everyone has been really great and really supportive," he said when asked of the potential distractions and difficulties of competing at home. "The only emotion I really have is happiness — I'm happy to do what I love; I'm happy to be in the place that I am; and I'm happy to perform and show everyone what I have been working so hard on come December 8.