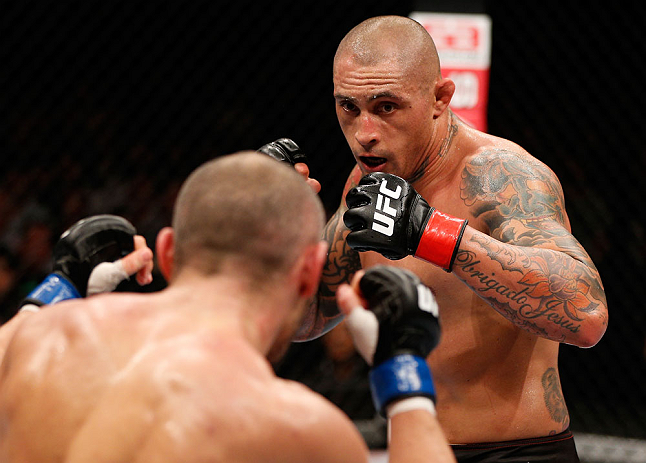 For a fighter who hasn't seen a victory posted to his professional mixed martial arts record since August of 2009,
Thiago Silva
sure doesn't fit the mold of someone living through such a dilemma in one of the
UFC'
s toughest divisions, saying "I've never been happier or more satisfied, and I learn more every day."
But as he approaches his Saturday bout with Rafael "Feijao" Cavalcante in Fortaleza, Brazil, the 30-year-old is a man at peace before war. Sure, he's been suspended twice for failing post-fight drug tests after wins over
Brandon Vera
and
Stanislav Nedkov
, bouts sandwiched around losses to
Rashad Evans
and
Alexander Gustafsson
, but at this point, he can't change any of that negativity. He can only focus on what's ahead of him, choosing to stay positive "by training hard and focusing on my job."
When Silva is on top of his game, he's scary. Just ask the last man he beat,
Keith Jardine
, who he stopped in 95 seconds back at
UFC 102
in 2009. Even a man who beat him and later became his teammate at the Blackzilians camp, Evans, was badly rocked by Silva before the former light heavyweight champ made it through three rounds to earn a decision win.
In his most recent fight against Nedkov last November, Silva submitted his foe via arm triangle choke before seeing the win turned to a no contest after he tested positive for marijuana metabolites. And despite the negative end result, Silva did look sharp in the fight, outside of a late second round knockdown, and he knew it.
"My hard training paid off," he said of the Nedkov bout. "I finally found a great team with professionals that give me all the necessary support."
That team, the aforementioned Blackzilians squad in Boca Raton, Florida, appears to be the perfect fit for Silva, who has also had stints with Chute Boxe and American Top Team, and while he says he didn't ever doubt his ability to compete at the elite level at 205 pounds, having a new team around him did give him a boost.
"I never lost my confidence; I just needed good training and trainers."
With that out of the way, and his failed drug tests a thing of the past, now the Sao Paulo native can look forward, starting with his meeting against former
Strikeforce
champion Cavalcante, a similarly aggressive force who has never seen the final bell in an MMA fight, win or lose.
"He's explosive, strong and has heavy hands," said Silva. "But a fight is a fight and there are three rounds." And having heard the bell to start the final frame in his last four bouts, Silva is obviously counting on weathering an early storm from "Feijao" and then taking his countryman into deep waters. Then, he plans on making a statement, not just to his opponent, but to the rest of the light heavyweight division.
"A win puts me back on the radar to fight against the best in my division," said Silva, and after surviving a rough upbringing that forced him to run away from home at the age of 13, living in the favelas of Sao Paulo, and then making his way up the MMA ladder, a couple losses and some setbacks really don't matter much in the great scheme of things. For him, every day is just another fight.
"I've had to learn to fend for myself from very early on," he said. "And I've been through a lot in my life. So I keep calm and fight on."