The welterweight title is on the line in the UFC 201 main event, as Robbie Lawler seeks to successfully defend his belt for the third consecutive time when he faces fellow American Top Team fighter Tyron Woodley.
Lawler has been involved in some of the most memorable fights of the past few years with his recent title defenses, but the champion hopes to avoid a Fight of the Night bonus this time around to focus instead on getting a huge knockout.
As for Woodley, this is the culmination of several years sitting near the top of the contender's list without ever actually getting a shot at the gold. Now he'll finally get his crack, but he's got a tall test ahead of him by facing one of the most dangerous welterweights of all-time.
Also on the card, Rose Namajunas will look to secure another shot at the women's strawweight title when she takes on undefeated Polish sensation Karolina Kowalkiewicz, while Matt Brown attempts to erase a loss in his last fight as he takes on veteran competitor Jake Ellenberger.
In today's fantasy preview, we're going to examine some of the biggest fights on the upcoming card to see who has the advantage, who might be a lock and if there's at least one upset brewing at UFC 201: Lawler vs. Woodley.
SPLIT DECISION
These are the fights that are just too close to call, but a few minor differences between favorite and underdog could lead one fighter to victory and the other to defeat.
Robbie Lawler (-230 favorite) vs. Tyron Woodley (+190 underdog)
The main event showdown between Robbie Lawler and Tyron Woodley really comes down to a few key factors that will determine who walks out with the welterweight title at UFC 201.
For Woodley, he needs to have a fast start and try to put Lawler away early. Woodley typically doesn't have any problem carrying out that game plan because he's a hard charger out of the gate and he's most dangerous in the first couple of rounds, when he's swinging punches likes sledgehammers dropping on nails. Woodley is also a highly efficient wrestler, as he showcased against Carlos Condit when he took him down repeatedly throughout the first two rounds until an injury caused a stop to the fight.
Woodley has more than enough power to put Lawler away and make a huge statement with a knockout victory, but he has to pick his poison because his best chance to win will come during the first two rounds, and if the fight bleeds into the third, it will likely start to slip away from him. He can certainly try to out wrestle Lawler early and then look for the knockout later, or go guns blazing in the first two rounds trying for a finish before reverting to a wrestling attack late.
Lawler is clearly just as dangerous as Woodley in the opening rounds, but he somehow finds a way to surge late and get even better in rounds four and five. In his fights with Rory MacDonald and Carlos Condit, Lawler persevered early only to come back late and put a hurting on both opponents. Lawler is best known for his vicious knockout power, and it's not likely he'll change that strategy to face someone like Woodley. Lawler is fast, accurate and lethal any time he lands a strike and he's also got the durability to survive an early onslaught before firing back with his own counters.
Ultimately, it's just too hard to pick against Lawler with the way he's looked lately against high level competition. He's certainly taken some damage and had some close fights, but Lawler always seems to find a way to win. Woodley is also dealing with 18 months of inactivity since his last fight and that's a long time to wait before stepping in to face the best welterweight in the world. Lawler may start slow, but he'll likely finish big.
Prediction: Robbie Lawler by TKO, Round 3
Rose Namajunas (-270 favorite) vs. Karolina Kowalkiewicz (+190 underdog)
The next contender for Joanna Jedrzejczyk's strawweight title may emerge from this fantastic fight between Rose Namajunas and Karolina Kowalkiewicz.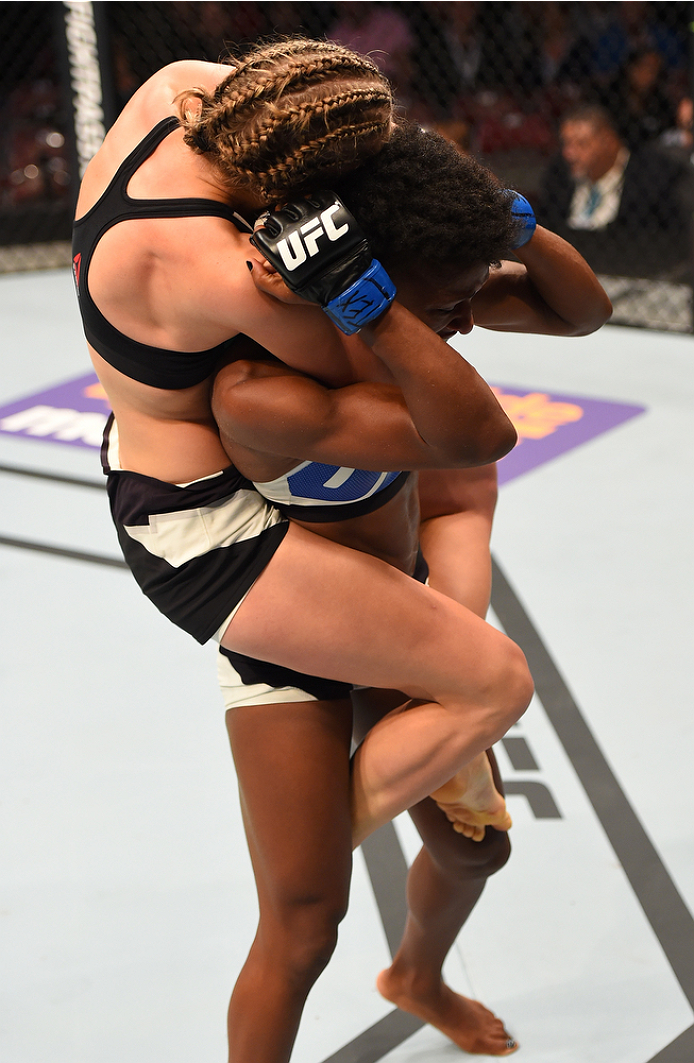 Kowalkiewicz has proven to be a very tough competitor since joining the UFC roster, and with her undefeated record and wins over veterans Randa Markos and Heather Jo Clark, she appears poised for a title run if she can get past Namajunas at UFC 201. Kowalkiewicz is a blazing fast striker, who averages a ridiculous 6.17 significant shots landed per minute with over 43 percent accuracy. She's also shown incredible takedown defense through her first two fights in the Octagon and that bodes well against a submission specialist like Namajunas.
On the other side, Namajunas might be the most well rounded fighter in the division right now who isn't wearing the title. She was best known from her time on The Ultimate Fighter as a slick submission artist with unreal ground skills, but Namajunas has developed into a punishing force on the feet as well. Her kickboxing has come leaps and bounds since her first days in the UFC and now Namajunas is just as dangerous on the feet as she is on the ground. Of course, Namajunas' bread and butter is still a nasty ground game, where she damages her opponents with strikes before looking for the finish by submission.
Kowalkiewicz has looked incredibly composed through her first two fights in the UFC, but this is a much bigger stage and opportunity against someone like Namajunas. Kowalkiewicz knows the best way to win this fight is to hit and move before Namajunas can grab hold of her, but that won't be easy to do over three rounds. Kowalkiewicz is very good technically on the feet, but she doesn't have a ton of power and that could hurt her as Namajunas wades through her punches and either works from the clinch or drags her to the mat. Once the fight is on the ground, it's Namajunas' world and Kowalkiewicz will be in pure survival mode.
Prediction: Rose Namajunas by submission, Round 3
Francisco Rivera (-105 favorite) vs. Erik Perez (-135 underdog)
Francisco Rivera will attempt to get back in the win column as he takes on Erik Perez in a very interesting matchup at 135 pounds.
Rivera clearly possesses some of the most lethal power at 135 pounds, but has come up short in two straight bouts and desperately needs a win. Rivera is best when he's aggressive and smart with his striking while looking for the right opportunities to unload combinations. Rivera has struggled when he decides to bite down on his mouthpiece and just throw caution to the wind, although he probably won't face nearly as much danger on the feet in this fight as he did with sluggers like John Lineker or Brad Pickett.
As for Perez, the young Mexico native seemed like a top prospect just a few years ago but injuries and losses derailed him a bit until he bounced back with a win last November over Taylor Lapilus. Perez packs a lot of pop in his punches and he's starting to develop his overall MMA game while working under coaches like Greg Jackson and Mike Winkeljohn. Perez knows how to win on the feet, but he can ill afford to get stuck in exchanges with Rivera because that's a fight he almost certainly loses.
If Rivera can get his mind right heading into this contest, he's got more ways to win, especially if he can sit in the pocket and pick Perez apart. Rivera hits like a truck and as long as he doesn't wait too long just looking for the perfect shot, Perez will likely be fending off combinations for three rounds until he either loses a decision or finds himself staring up at the lights with the referee standing over him.
Prediction: Francisco Rivera by TKO, Round 3
KNOCKOUT PICKS
These are the fights that appear to be a little more one-sided, but remember that this is MMA, where anything can and usually does happen.
Matt Brown (-280 favorite) vs. Jake Ellenberger (+200 underdog)
Matt Brown has certainly experienced some ups and downs lately while trying to tackle the top of the welterweight division and while there's certainly no shame in losing fights to Robbie Lawler, Johny Hendricks or Demian Maia, he still wants to get a win at UFC 201. It appears he's got a matchup that will allow him to do just that.
Jake Ellenberger has experienced one of the worst slumps of his career in recent years, going just 1-5 over his past six fights. It's tough to remember when the slide began, as Ellenberger was arguably only a fight or two away from a title shot when he had a very forgettable performance against Rory MacDonald and then suffered two more losses to Robbie Lawler and Kelvin Gastelum in consecutive fights. He bounced back with a win over Josh Koscheck, but then was knocked out by Stephen "Wonderboy" Thompson and lost a decision against Tarec Saffiedine.
Thanks to this recent streak, Ellenberger has fallen far outside the top 15 and it's nearly impossible to predict what kind of performance he'll give at UFC 201. Obviously, Ellenberger has to know this is make or break for him and a loss could see him bounced from the promotion. Ellenberger has ways to win this fight, particularly if he falls back on his wrestling, which is still a very good weapon hiding in his back pocket.
Unfortunately, Ellenberger hasn't done much wrestling against any of his recent opponents and it's impossible to predict that he'll use that game plan on Saturday night.
Meanwhile, Brown's method of attack is well known - he's a punishing force of nature on the inside with knees, elbows and short punches. Brown rarely puts an opponent away with one shot, but instead brutalizes his opponents with a multitude of strikes until they simply can't take anymore and they crumble to the mat. Brown knows Ellenberger has struggled lately, so look for the Ohio native to put the pressure on early to see what this crafty veteran has left in the tank. Considering his recent performances, it's hard to see Ellenberger surviving the first couple of rounds if Brown ratchets up his attacks and goes on the offensive looking for the finish.
Prediction: Matt Brown by TKO, Round 2

Nikita Krylov vs. Ed Herman

Ed Herman admitted after his last fight and win that the light heavyweight division was going to be his future home from now on, but that stay might not be very welcome as he faces dangerous Nikita Krylov at UFC 201.

Krylov has quickly become one of the most enjoyable fighters to watch over his last few performances because he's become a vicious finisher on the feet and on the ground. Krylov has no fear standing and trading with any opponent, but lately he's become a mat wizard, wrapping up three submission finishes in a row. Krylov is also an incredibly fast starter, and if Herman isn't careful, he might find himself on the mat trying to avoid submissions as soon as the fight starts.

Of course, Herman is a veteran competitor with a ton of experience under his belt and the longer this fight goes, the better chance he has to win. No one knows for sure what Krylov's gas tank will look like deep into the second or third rounds because he's barely been there since joining the UFC roster, but Herman should be firing on all cylinders for 15 minutes straight.

The problem is that Krylov is such a dynamic finisher early that Herman's ability to weather the storm still may not be enough. Expect Krylov to put the pressure on Herman from the opening bell and he'll either land a fight finishing strike or take the former Ultimate Fighter runner-up to the ground and start looking for a submission. Either way, it's tough to pick against Krylov in this fight.

Prediction: Nikita Krylov by submission, Round 1

Jorge Masvidal vs. Ross Pearson

Ross Pearson will move up to welterweight for a short notice fight against Jorge Masvidal after a close decision loss to Will Brooks at The Ultimate Fighter 23 finale just a couple of weeks ago. It's a big move for Pearson, who actually fought at featherweight not all that long ago, and while he's a natural lightweight, he didn't hesitate to accept the opportunity to face Masvidal at UFC 201.

He might regret that decision after the event is over.

Masvidal has a tendency to compete in very close decisions, so that might help Pearson a little bit, but he's still giving up five inches of reach and he's facing one of the craftiest fighters on the UFC roster today. Masvidal is the ultimate "jack of all trades" because he's highly proficient on the feet and on the ground, so he could give Pearson a multitude of problems over three rounds.

Masvidal averages just under four significant strikes per minute while also mixing in over two takedowns per 15 minutes in the cage. Masvidal is also built like a tank in terms of durability, and the extra weight he's packed on since moving to 170 pounds has only helped him in terms of increasing power while maintaining speed in his new division. He might not be as fast as Pearson, but the difference is negligible in the grand scheme of things.

The only factor that could bite Masvidal is the way he always ends up on the wrong side of a very close decision. Masvidal seemingly does just enough to win, but that strategy often backfires when dealing with judges scoring a fight in MMA. This time around, Masvidal has to rack up the points and never allow Pearson a second to breathe and he should cruise through to a victory.

Prediction: Jorge Masvidal by unanimous decision

UPSET SPECIAL

Ian McCall (+205 underdog) vs. Justin Scoggins (-285 favorite)

Justin Scoggins has looked like a legitimate threat to the title over the course of his past two fights, but he still has a very tough test ahead of him at UFC 201 when he takes on Ian McCall.

McCall has certainly faced his demons in the UFC after coming so close to defeating Demetrious Johnson in his debut and since then everything has been a roller coaster of peaks and valleys during his career. McCall looks like a future champion one minute and then falls flat the next. On his best day, McCall is still a real threat to Johnson or any other top flyweight in the division and that's what he'll need to beat Scoggins at UFC 201.

McCall is a very good all around fighter with solid boxing, great wrestling and very good ground control. To win this fight against Scoggins, McCall will need to use all that and more to try and slow the pace of this fight down to a crawl in an attempt to curb his opponent's tendency to pour on the pressure over all three rounds. Scoggins has really come into his own over his past couple of fights, but if he's truly going to be a top contender one day, he has to get through a veteran like McCall and that's a very tall order.

Make no mistake, Scoggins is still the safe pick considering the way he's blasted through top prospects like Ray Borg and Josh Sampo lately, but he still hasn't been able to beat a top five-level flyweight such as McCall, and that's exactly why this is a very difficult matchup for him. McCall has a huge edge in experience against top-ranked opponents, and if he's got his mind sharp for this fight, he might make a huge statement to the division at Scoggins' expense.

Prediction: Ian McCall by unanimous decision