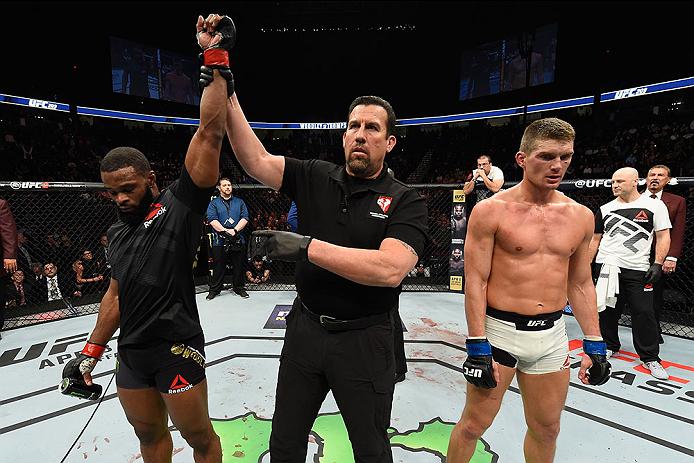 The first fight between Tyron Woodley and Stephen Thompson was an instant classic. The rematch at T-Mobile Arena in Las Vegas on Saturday night didn't match that standard, but in the UFC 209 main event, a winner did emerge, as Woodley retained his UFC welterweight title with a five-round majority decision victory.

"I was extremely nervous," Woodley, who made the second defense of his crown, admitted. "Stephen did a way better job of gauging the space. He made it very hard for me to get in close. In the last round, we all know I went out there for the kill. I wish I would have did that in a few other rounds, but it was a good fight. I knew it was close, so I was just praying and making sure the belt stayed home."

It did, with Woodley, now 17-3-1, emerging victorious by scores of 48-47 twice and 47-47. South Carolina's Thompson falls to 13-2-1. The two fought to a five-round draw at UFC 205 last November.

"I knew he was gonna look for the takedown, I had to play it smart," Thompson said. "I thought I had it, but you live to fight another day."
RELATED: Recaps - Main Card | Prelims | David Teymur Octagon Interview | Alistair Overeem backstage interview
Round six between champion and challenger didn't exactly pick up where the two left off in their first bout, and the war of nerves between the two got the crowd restless in a hurry. Thompson was the busier of the two though, even though Woodley blocked much of his opponent's output.
Woodley began pushing the pace more as round two began, but soon he settled back into what he was doing in the opening frame, allowing Thompson to stalk him and pick his shots from long range. But even Thompson, who was cut under the left eye by a Woodley right hand, was far from busy, and the crowd continued to make their displeasure known.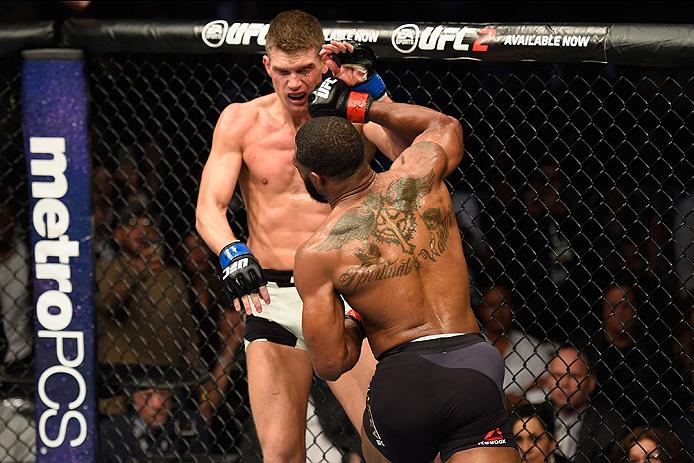 Woodley kicked off the third round with a takedown attempt, and after putting in some work, he got it, forcing Thompson to the fence. With Thompson's arm trapped, Woodley landed several left hands to the head and body, changing the complexion of the fight in a hurry. With three minutes left, Thompson got back to his feet and fought his way out of Woodley's clinch. Following the sequence, Woodley appeared to be winded, and the pace of the fight returned to that of the first two rounds, this time with Thompson firing off shots to the body and ending the round with a hard left to the head.
The fourth was another tough one to score, but not because of any frantic back-and-forth action. Instead, the fight remained a chess match, with Thompson's slightly more aggressive stance earning him points.
Told by his corner that he needed a finish, Woodley came out fast for the final round, Thompson reacting well as he looked to counter. In the second minute, Woodley reached for a takedown, only to have Thompson elude his grasp with little difficulty. From there, it was more of the same, with little significant scoring from either man until the final minute, when Woodley dropped Thompson twice and nearly stopped him. "Wonderboy" was able to get back to his feet and survive the St. Louis native's onslaught, but it was this late surge that ultimately kept the belt in Woodley's possession.