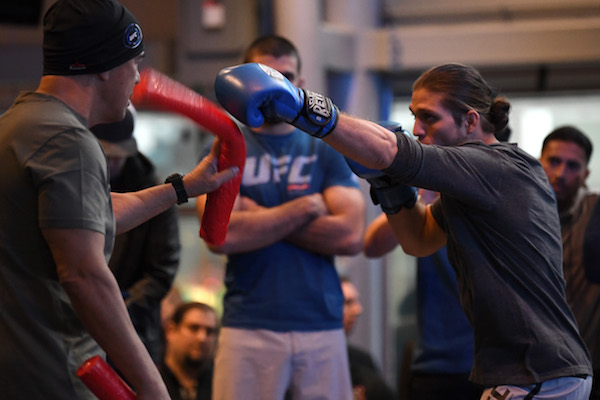 The UFC 231 open workouts were held in Scotiabank Arena, where the main event and co-main event fighters each worked out, signed autographs and talked to media for about a half an hour.
Joanna Jedzejczyk started things off with a quick warmup and striking session. Afterward, she learned that she will break her tie with Ronda Rousey for most title fights in women's UFC history on Saturday.
Ahead of her UFC debut at flyweight, the former strawweight champion, talked about the ease of this weight cut compared to her fights at 115 pounds.
"I can eat. I feel healthy. I'm hydrated, and the whole camp was totally different," Jedrzejczyk said. "I could recover faster and just do more. Like I said, quality over quantity, but actually, it was quantity, quality, and quantity and quantity again. I did more, but I felt good."
Brian "T-City" Ortega took the stage next. After warming up, he invited his younger brother, Christopher, for a little sparring.
Ortega followed that by inviting a younger fan on stage with one, basic task: hold on. The fan climbed on Ortega's back and had to keep that position for 10 seconds in order to win a signed shirt from the featherweight contender. After what looked like a human version of a mechanical bull ride, the young fan walked away with his prize. Afterward, Ortega talked about how he has been able to keep a calm demeanor while approaching the biggest fight of his career.
"I feel like once you come into a realization of what can happen and you accept it, you're all right with it," Ortega said. "You go in there and you either win or you lose. I've already won because I'm living this right now. I see all the cameras, I see everything, I hear the fans out there screaming, I already won.
The other half of the co-main event, Valentina Shevchenko, followed Ortega with a quick warmup, some striking and then light shadowboxing with her sister, Antonina Shevchenko, who is fresh off her win at the TUF 28 finale on November 28.
When asked if she noticed her opponent engaging in fewer head games than usual leading up to the fight, Shevchenko agreed and felt that it was because got the upper hand in their Muay Thai fights before they began their UFC careers.
"It's because she knows it (doesn't) make sense," Shevchenko said. It doesn't work with me, so what for? To waste time? It's better to spend it on the training."
Finally, The Blessed Express arrived to hold his open workout. Featherweight chamion Max Holloway came out to Drake's "8 Out Of 10," which mentions the Hawaiian. Holloway worked out for a few minutes before his son stole the show with his dancing. As the champion has all week, he appealed to his fans with a "10th island" chant throughout the workout.
"I heard it's sold out here," Holloway said. "It's sold out. Make sure you tag your friends, you guys figure out where you guys are going to watch it. Order the pay-per-view, and if you're going to a friends house, make sure — this is number one — you buy the pay-per-view for yourself and record it because you're going to want to rewatch history over and over again."
That wrapped up the open workouts in Scotiabank Arena. Next, the fighters will faceoff at the ceremonial weigh-ins at the same arena on Friday night following official weigh-ins that morning. Once that's all finished, it'll finally be time to focus on the fights, which get started with the early prelims on FIGHT PASS at TIME.
Zac Pacleb is a writer and producer for UFC.com. You can follow him on Twitter @ZacPacleb.