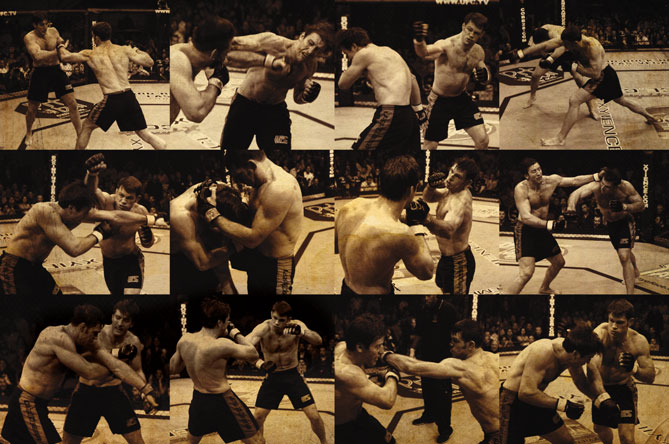 In 2005, the UFC made a final gamble at getting mainstream exposure in the form of The Ultimate Fighter. If the show failed, odds are the entire organization would have folded. Obviously, that was not the case. The inaugural season of TUF was an unmitigated success capped off with arguably the most important 15 minutes in UFC history when Forrest Griffin and Stephan Bonnar fought at the finale on April 9, 2005. The impact of the bout reached beyond a mere win or loss on each man's record. "It's a good fight, but it's more than that," Griffin says. "It was the right moment at the right time at the right place. A confluence of circumstances caused it to be what it was. And for me and Stephan, it changed our lives."
Filming for the show started in late 2004, but some doubted the production would even reach a finale episode. "A lot of the production staff didn't think it would even air," Bonnar remembers. "They would joke about it. In my head, I was thinking, 'Am I crazy?' Because I knew it was going to work."
In a way, Griffin and Bonnar—as well as every cast member of the inaugural season—were in the same situation as the UFC. Griffin left his job as a police officer in Athens, Georgia, packed all of his belongings in a storage unit, and moved to Las Vegas. Bonnar contemplated returning to school to continue pursuing a degree in physical therapy before the show. Both fighters had experience fighting around the world. Between them they had faced names such as Dan Severn, Jeff Monson, Lyoto Machida, Brian Ebersole, and Chael Sonnen. But at that point, fighting did not provide a living. The UFC contract meant no more side jobs, a chance to focus on training, and nothing else.
The night of the fight, Griffin and Bonnar went through their standard routine, but the enormity of the situation and the stakes were not lost on them. "I was nervous, and my stomach was a little messed up from the weight cut," Griffin says. "I was drinking Pepto backstage and Adam [Singer] said, 'Give me some of that.' I remember thinking, 'That's a bad sign when your cornerman needs some Pepto-Bismol because his nerves are shot.'"
While warming up, Bonnar watched as fellow Team Couture member Kenny Florian lost by first-round TKO to Diego Sanchez in the middleweight finale. "I saw Kenny get beat by Diego and thought, 'Oh damn, I hope to God that doesn't happen to me,'" Bonnar remembers with a laugh. "Anything can happen in there and I'm thinking, 'Please God, let me do my best. Don't let that happen to me.'"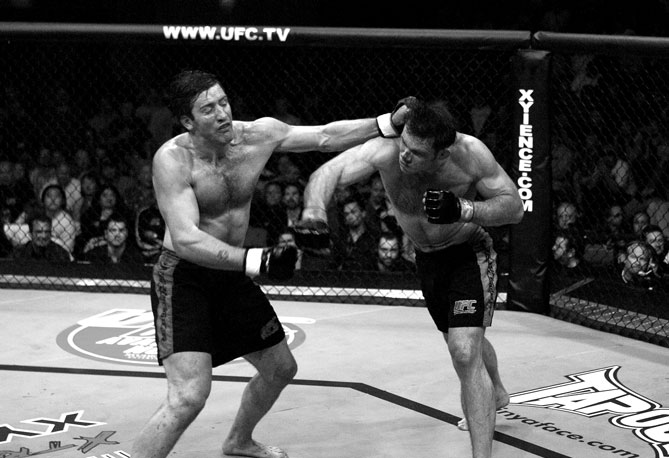 Before the fight, Chuck Liddell counseled Griffin to avoid the standard slugfest. "Back on the show I would just get hit and not worry about it too much," Griffin remembers. "He said, 'Don't take shots you don't have to. The judges still see those.'" The advice went out the window. Both fighters skipped the touch of gloves, took the center of the Octagon, and started swinging. Griffin scored early, but Bonnar never left the pocket. The first round ended with Griffin attempting an armbar. To start the second, Bonnar cut Griffin's nose with a jab. After a brief inspection from the doctor, the pair resumed where they left off with Griffin seeming to fade while Bonnar pressed the action. In between rounds two and three, Griffin screamed at his cornermen to hold up his arms and try to shake out the lactic acid while Stitch Duran worked on his cut. Across the Octagon, Bonnar's corner was equally chaotic. "Miguel Torres, Carlson Gracie, and Joe Kaehn were my cornermen," Bonnar remembers. "Between the second and third round, Miguel and Joe were fighting with each other. Miguel was trying to tell me to get my hands up, and Joe was trying to flex his nuts and say, 'I'm the coach here, son.' And Carlson was just saying, 'No takedown, just punch! Boa!' Which was funny, coming from him. I was thinking, 'Seriously? You guys are fighting during my rest period? I've only got a minute here. Come on.'"
Both fighters bloodied, they resumed their frantic pace for another five minutes. Bonnar pulled out all the stops throwing a wheel kick in the final seconds. And the fight ended much like it had started, in the middle of the Octagon with both fighters trading leather.
When Bruce Buffer announced Griffin the winner by unanimous decision, Forrest gave a surprised look at referee Herb Dean. "If the fight was a draw, there would be a three-minute sudden-death overtime," Griffin says. "You kind of want to assume the worst-case scenario. In my head I was thinking, 'Three more minutes. Three more minutes. He's tired now.' I wasn't mentally prepared for winning or losing." When Bonnar heard the decision, he dropped to the ground. "In my head I could just feel my name coming. Here it comes…and then it didn't," Bonnar says. "It felt like I got stabbed in the chest, and I just collapsed."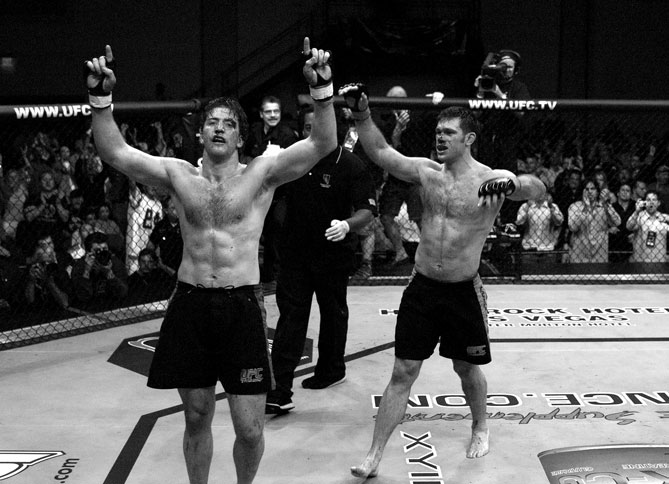 While Griffin claimed the title of The Ultimate Fighter, Bonnar did not have to agonize over his fate for too long. "I was actually trying to figure out what I was going to do with my life, and then Dana grabbed the mic and said we were both getting the contract," Bonnar says. "So I never had to think about that." According to UFC president Dana White, Griffin vs. Bonnar I represented the turning point for the organization. The reality show and the climactic final fight launched the careers of Griffin and Bonnar and, by some accounts, saved the UFC. Bonnar's career in the Octagon has been a series of peaks and valleys, as injuries have plagued the light heavyweight. He is currently on an upswing and hasn't lost a fight in more than two years. Griffin kept building on the lessons he learned while sequestered in the TUF house and went on to claim a light heavyweight title. Unlike a lot of fighters who pass through the house, Griffin would willingly sign up for another tour on the show if the opportunity came up.
"What I tell the guys whenever I go back [to the TUF gym] is that if I could spend that many weeks doing nothing but train, I would do it. I wish it was like jail where you got two hours of TV time, but I would still do it."