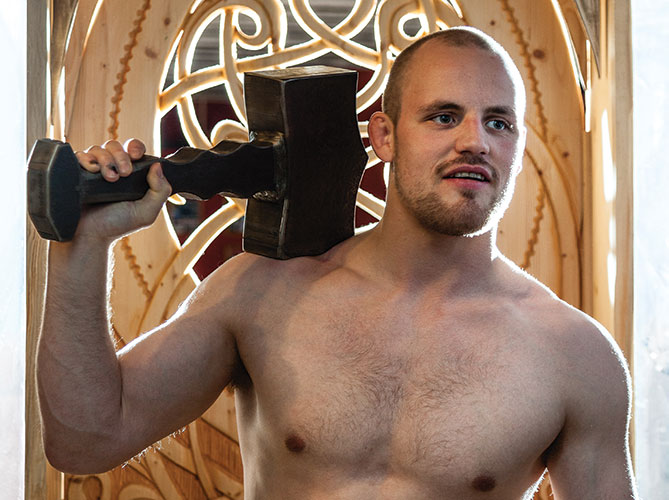 There is nothing more prevalent in mixed martial arts these days than the name-dropping of Bruce Lee as an influence. Yet beyond the cool factor, few fighters who do so truly represent what the Jeet Kune Do creator might have done had he competed in the Octagon. In fact, perhaps the only one who could be seen as carrying on the legacy of "The Dragon" in the UFC is a soft-spoken 26-year-old from Reykjavík, Iceland, named Gunnar Nelson.
He doesn't talk of Lee in interviews, though he was first exposed to him through the seminal films that were part of everyone's childhood, and he claims karate and jiu-jitsu as his art forms. But if you speak to him about the sport in which he makes his living as a member of the welterweight roster and, more importantly, watch him fight, his intent is clearly to, as Lee famously taught, "be like water."
So there are no mad rushes in Nelson's game while standing, no ponderous attacks while on the mat. Everything appears to happen when it's supposed to, with seemingly no effort from the unflappable Nelson until he sees an opening or his opponent makes a mistake. And at that point it's usually over in a matter of seconds.
"It's all about feel," he said. "You've done it so many times in the gym, and then when you're in the fight and you see something and you feel it, it just kind of happens. It feels like it's not even you. I think it's subconscious. You're so used to it that you just let go and things happen."
When you've been training in one form of martial arts or another for half your life as Nelson has, muscle memory is something that comes along with the territory. Despite his placid prefight demeanor in the Octagon, he is more man than machine. And there are nights when things are just not right. "Gunni" had one of those in Stockholm on October 4, 2014, when he saw his unbeaten record disappear at the hands of veteran Rick Story.
"I felt I wasn't moving the way I'm used to moving," he said of the five-round split-decision loss, which dropped his record to 13–1–1. "I wasn't moving freely. It's a very basic thing for a fighter—or for me anyway. It's a feel that you have to have, and you can't get caught up in certain movements. It has to be free, and that's what I felt went wrong in this fight. It's happened in the past, but I got away with it. But I didn't this time, and so maybe that's a good thing for me that I didn't because now I know what it is that can hold my performance back."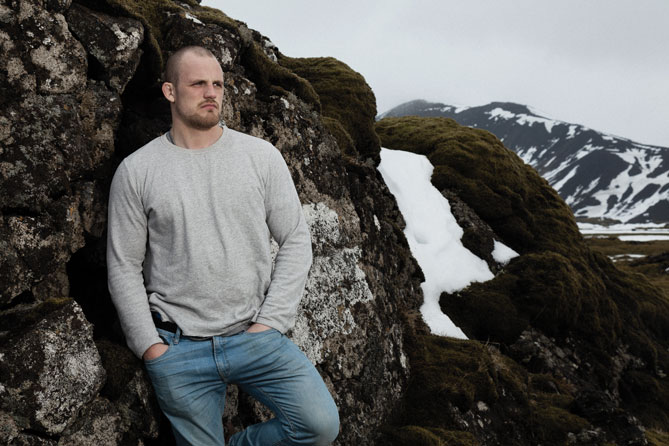 Again, it's not about a technique that failed or a game plan gone wrong, but about something as simple as feel and movement. It's just one philosophy that sets Nelson apart from his peers. If fans had not noticed how unique he was in his previous UFC victories over DaMarques Johnson, Jorge Santiago, Omari Akhmedov and Zak Cummings, they saw it front and center after the Story fight, when the Iceland native offered a tip of the cap to his opponent rather than make excuses.
"It's just honesty," he said. "I'm aware of what happens, and I'm not caught up too much in myself. I like to see things for what they are, and that night I didn't perform and I didn't do what I meant to do. Sometimes that happens, and he did a good job. So let's learn from that and move on."
If you're in the fight game long enough, you can grow cynical. You expect an excuse after a loss—especially a close one—and you're stunned if you don't get a laundry list of why a fighter shouldn't have stepped into the Octagon on a particular night. Yet Nelson doesn't see himself as being a different breed from the other prizefighters.
"I think everybody is unique in their own way, and I don't think about that too much," he said. "I am the way I am, and I just do the things that are in front of me and accept them for what they are."
He is unique, though, especially in the way he carries himself. There is no trash talk, no incendiary statements or click-bait interviews, and he's fine with not having any of that in his life. Just don't call him emotionless, because that wouldn't be the case. He just doesn't feel the need to show all his cards to the world.
"I think people sometimes mistake me for that guy from Rocky or some character like that, but I'm really not," he laughs, referring to the Ivan Drago character from the iconic film series. "Maybe I don't carry my feelings on the outside. When I'm somewhere where there's a lot of people, and especially in the Octagon, I don't really feel much then. I try to save my feelings for my friends and my family."
That goes for life in the Octagon as well, because fighting isn't an emotional exercise for Nelson.
"When you're being pressured or when you really need to be all in, I find it easier 
to just be practical. I don't know if it would be better to call it spirit. But when you really feel something deep inside that pushes you, you use that. But I don't get caught in feelings. There's no point in that in these situations."
You could call him the anti-Conor McGregor, which makes the friendship between the two Straight Blast Gym Ireland teammates even more interesting—a connection that isn't lost on Nelson. "We're a good team," he said. "We're polar opposites in a lot of ways, but we work well together, and he's fun to be around. He's not always that hyper."
McGregor certainly will be during UFC 189 fight week in Las Vegas, capped off by his challenge of featherweight champion Jose Aldo. Nelson will be on the card as well, looking to rebound from his first loss when he takes on Colorado's Brandon Thatch. It's Nelson's first fight in the United States, and he can't wait.
"I want to fight everywhere. At the moment the United States is the biggest stage, and this is the biggest card of the year," he said. "I've trained a lot in the States, and I really enjoy being there, so fighting there will be amazing. It's an honor for me."
It will be an honor to see Nelson compete again, as he has that special something that only comes around every so often. Many believe his teammate McGregor has it as well. And while all eyes will be on "The Notorious" one in Las Vegas, it could be Nelson silently making his way up the welterweight rankings.
"I think I'm right in there," he said. "I don't look at rankings too much, but I feel like I'm always a few fights away. It's always around the corner. I know my abilities, and I know where I am, so I'm positive."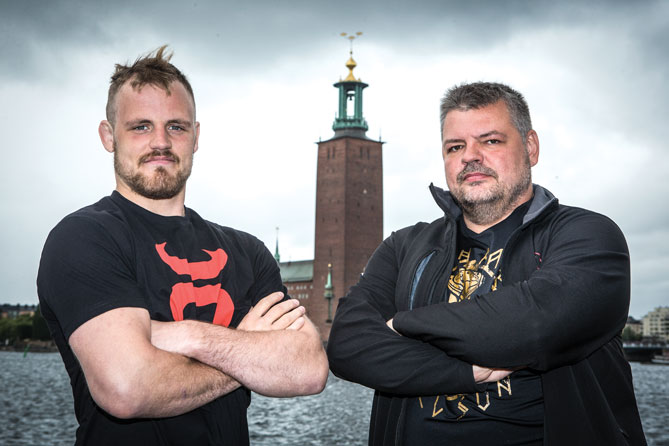 Father Knows Best
As the father of one of the welterweight division's rising stars, Haraldur "Halli" Nelson knows Gunnar Nelson better than most. So the big question is: Was his son always this quiet?
"He was a lively kid," Nelson laughs. "He was always very good at home. It was at school when he would get into trouble. [Laughs] But it was nothing serious." These days his son is one of the top fighters in his division, but, more importantly, he's a positive ambassador for the sport. "I'm very proud of the person that he's become, both as an athlete doing the things he loves in MMA and as my son. I have two kids, and I'm very proud of both of them. They're very talented in what they do."