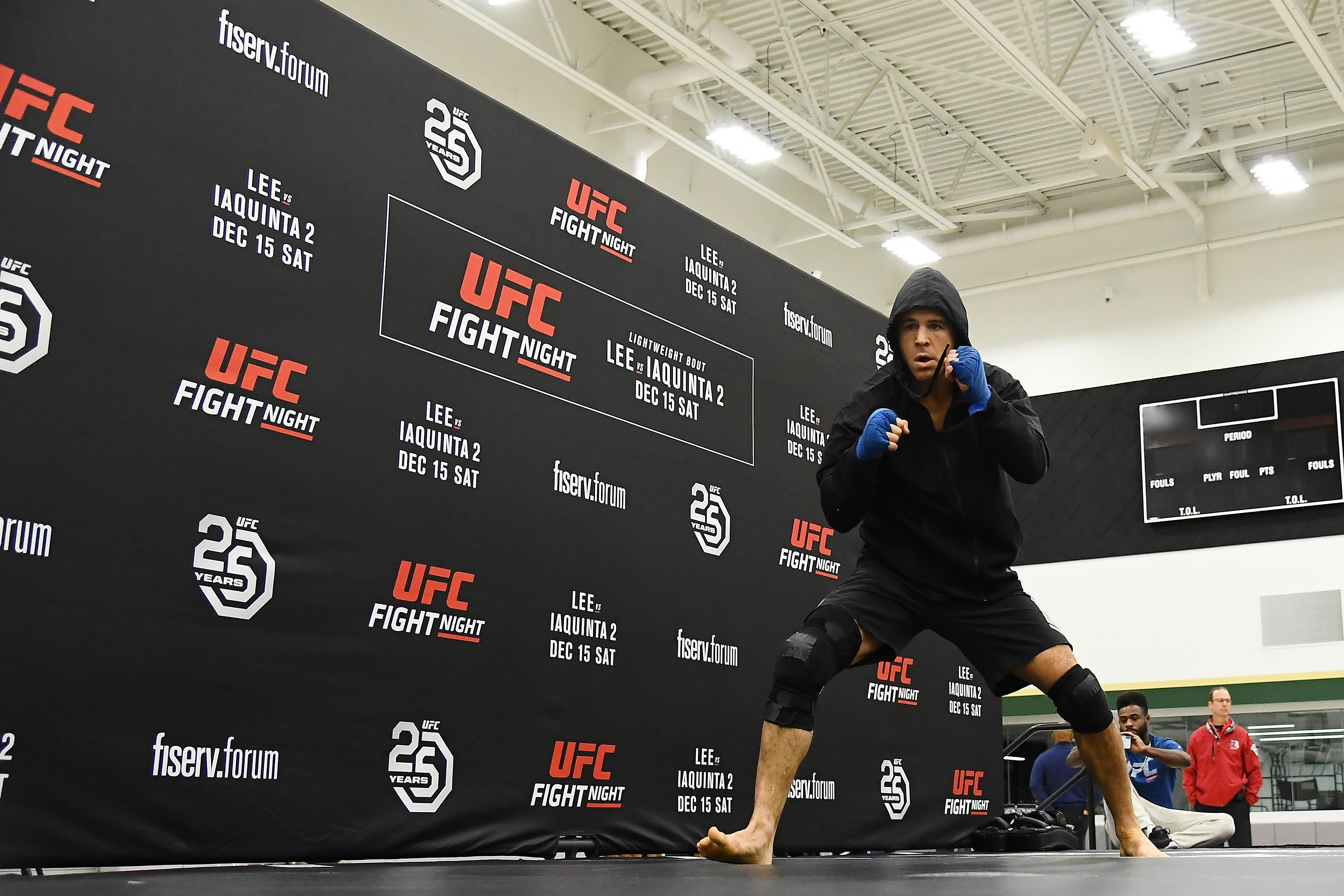 It was bitter cold in downtown Milwaukee as fans waited for the UFC Fight Night: Lee vs Iaquinta 2 open workouts to begin. But once the doors to the Froedtert and Medical College of Wisconsin Sports Science Center opened, it was evident that the anticipation for Saturday's action is heating up.
Fans flooded into the gorgeous facility used by the NBA's Milwaukee Bucks to watch UFC stars Kevin Lee, Al Iaquinta and other local fighters such as Sergio Pettis, Zac Ottow, Gerald Meerschart and Jordan Griffin put on a show.
Saturday's show will mark the third time that the UFC has brought the Octagon to Wisconsin's largest city and with the way the card shaped up, the people of the badger state are expecting fireworks.
And that's just what local Milwaukee fighter Jordan Griffin expects will happen when he kicks off the FS1 prelims. His featherweight match-up with Danny Ige will be his first appearance in the UFC and he told fans on Wednesday, that it's a dream come true for him to make his debut in front of his home crowd.
"About a year ago I signed with the LFA and I said I was going to win all my fights and fight in front of you," Griffin said. "And I did it."
At the end of the Native Phsyco's workout he gave a young fan a pair of tickets to the event. The next five fighters followed in Griffin's footsteps, hyping up the open workout crowd for each workout and passing out tickets to fight fans.
Next up was middleweight Gerald Meerschaert, a Roufus Sport product just a few miles from home. At one point during his workout Meerschaert attempted a cartwheel kick but his leg went slightly higher than he anticipated, grazing the head of coach Duke Roufus. The famous coach immediately started to bleed as the two laughed about the accident.
"I went to throw a cartwheel kick and usually you come down on the side," Meerschaert said. "But then my leg went higher than I knew it could and my heel scraped him up a bit. It was my first ever workout for my hometown so I'm a little gassed up."
Speaking of having fuel, "Raging" Al Iaquinta pumped the crowd up on multiple occasions. First he did it by introducing the other members of his team Aljamain Sterling and Merab Dvalishvilli. Then he did it by displaying his raw power in the striking game. After his workout Iaquinta posed with fans for pictures, a fan even gave him a shirt. It's safe to say the people of Milwaukee are excited to Saturday's main event.
Christmas came early for these two fans @ALIAQUINTA #UFCMilwaukee pic.twitter.com/VEMHuSM8m9

— Gavin Porter (@PorterUFCnews) December 13, 2018
Following Iaquinta was welterweight Zac Ottow, another local fighter who wowed the audience with crisp combos, power and his fluid movement. Ottow is taking on Dwight Grant in the FS1 prelim headliner, but regardless of the fight's outcome Ottow is just excited to be fighting in front of family of friends. He left the stage with a nice message for the crowd.
"Thank you everyone for showing up," Ottow said. "Thank you for showing some support for our fighters from Milwaukee."
Hitting the stage next was Sergio Pettis, who is making his debut at bantamweight this weekend against Rob Font. Pettis took the stage with other members of Roufus Sport and showed off his athleticism. He hit mitts, did some grappling and worked a couple submissions for the crowd. Before he exited the building he made sure that fans knew he's bringing his A game on fight night.
"I put in lots of hard work with my team here in Milwaukee for this fight," Pettis said. "We can't wait to see you guys on Saturday and put on a great show for all of you."
Last but not least to break a sweat was the Mo-Town Phenom himself. Kevin Lee reminded everyone that he is every bit of 155lbs and possesses the power to take care of anyone, and he made sure the crowd knew it too.
.@MoTownPhenom showing out here at #UFCMilwaukee open workouts pic.twitter.com/FxGJy8fzGn

— UFC News (@UFCNews) December 13, 2018
"I'm going to put on a great show on Saturday," Lee said. "I mean y'all see me and y'all have seen Al (laughs)."
If fans took one thing away from the short-fast paced workouts put on by the fighters of UFC Fight Night: Lee vs Iaquinta 2 it's that local pride and rivalries run deep on this card. It should be a fun one to watch.
Make sure you tune into UFC Fight Pass for the early prelims at 3:30pm/12:30pm ETPT, FS1 for the prelims at 5pm/2pm ETPT and FOX at 8pm/5pm ETPT to see all the action!
Gavin Porter is a digital producer and writer for UFC.com, follow him on Twitter at @PorterUFCNews.