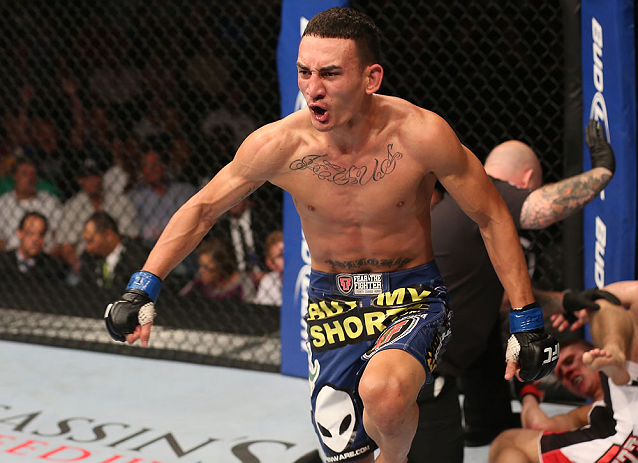 There will be quite a few new faces to learn when watching the upcoming
UFC
Fight Night card from Singapore on
UFC Fight Pass
this weekend, but that doesn't mean there isn't plenty of talent stacking the preliminary portion of the show.
22-year old prospect
Max Holloway
makes his return to action on the card, while
Katsunori Kikuno
, a veteran of the Japanese MMA scene, finally debuts in the UFC after more than eight years spent in the fight game.
Today's fantasy preview will help you to get to know some of the preliminary fighters a little better to make the best choices possible in the UFC Pick Em game this weekend.
MAX HOLLOWAY VS. WILL CHOPE
Two of the tallest featherweights in the division will square off at UFC Fight Night in Singapore as 5'11" Max Holloway meets 6'4" Will Chope in his UFC debut. Both Holloway and Chope are known best for their striking skills so this should be a fun contest if it stays on the feet. Chope moved to Thailand when he was 19 to begin working as a fighter, and the training has paid off, as he's won his last 14 fights in a row.
Despite coming from a Muay Thai background with his striking, Chope has also developed some slick ground skills, as he's submitted 11 opponents in his career. In this fight, however, Chope will probably end up standing and trading with Holloway, who has a solid 71 percent takedown defense.
The key in this fight really comes down to experience and level of competition. Holloway may not have the same amount of bouts on his resume as Chope, but he's now been in the UFC for six fights and faced some very stiff competition. Holloway has a diverse striking arsenal and can mix it up with the best power punches and technical fighters in the division. Look for Holloway to put the pressure on Chope early and often to see if he's really ready to hang in the UFC. Holloway has a chance to get a nice finish in this one if he can overwhelm Chope during the first few minutes while the UFC newcomer is still getting his feet wet.
KATSUNORI KIKUNO VS. QUINN MULHERN
One of the toughest fights to pick on the undercard is the matchup between Japanese newcomer Katsunori Kikuno and second time UFC fighter Quinn Mulhern. It's a particularly difficult fight to decipher because there are a lot of unknowns in this one. First off, Kikuno - despite a veteran record filled with fights against notable names like JZ Cavalcante and Eddie Alvarez - has never fought in the UFC and that can be a different kind of animal. On Mulhern's side, this will be his second bout in the UFC, but first time at 155 pounds after fighting his entire career as a welterweight. He's also making this move while fighting internationally, which means he will be traveling a long distance and could possibly have problems with food or nutrition once landing in Singapore.
The edge goes to Kikuno just slightly based on experience, knockout power, takedown defense and having the 'hometown' edge with a lot less travel ahead for him than Mulhern. Kikuno defends about 67 percent of an opponent's takedown attempts and on the feet he's a KO puncher with great submission defense at his disposal. He has to be aware of Mulhern's long reach, but if he fights smart and drags this fight into the third round, he should be able to eke out a decision. It's going to be close.
MAIRBEK TAISUMOV VS. TAE HYUN BANG
Austrian Mairbek Taisumov will take on fellow UFC newcomer Tae Hyun Bang on the UFC Fight Night in Singapore undercard and both are interesting prospects at 155 pounds. Taisumov is a tough grappler who says he loves the style of fighters like UFC heavyweight champion
Cain Velasquez
, which should tell you right away he's a fan of overwhelming opponents with an aggressive style. On the other side, Bang doesn't have the most impressive record, but considering he's been fighting names like
Jorge Masvidal
and
Takanori Gomi
in the last few years, it's understandable why he's had some ups and downs in his career. Bang actually took about three years off from fighting as well before returning in 2013 with a win to kickstart his comeback.
Taisumov may end up being one of the most interesting rookies fighting on the card, coming out of Europe with his powerful ground game and developing power in his hands. He's been a finisher his entire career, putting away all 20 opponents - 11 by knockout, nine by submission. Bang won't be an easy out though, considering one of his best qualities is his durability and toughness. So as long as Taisumov doesn't lose his cardio going hard at Bang early in the opening round, he should be able to grind out a victory using superior grappling and clinch work.
DUSTIN KIMURA VS. JON DELOS REYES
This bout between bantamweights Dustin Kimura and Jon Delos Reyes should be an exciting affair given that over the course of their combined 21 fight career, only two times has a fight gone to decision. Kimura is a submission specialist with a varied group of attacks on the ground. There's no position on the mat where an opponent will be safe, with Kimura constantly working to grab an arm, leg, or neck to finish the fight.
Reyes also has a good ground game at his disposal after training in Brazilian Jiu-Jitsu starting back in 2005. He also holds a mantle full of awards from different grappling competitions and was a hopeful during
the Ultimate Fighter
season 18, but didn't make the final selection for the cast.
Where this fight separates a bit is Kimura's Octagon experience and slick submission game on the ground. Reyes won't be easy to catch so he may not finish the fight, but Kimura's constant attacks can rack up the points on the scorecards and that's where he should do enough damage to get the unanimous decision win.
This event will air on UFC Fight Pass on Saturday, January 4. Start your free trial now at ufc.tv/fightpass