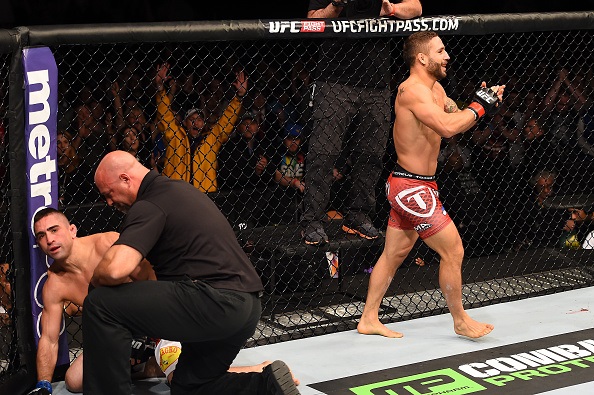 The waiting begins. After scoring a stunning first-round knockout of number four-ranked featherweight contender
Ricardo Lamas
at Patriot Center in Fairfax, Virginia on Saturday, top-ranked
Chad Mendes
will now await the results of the upcoming
Jose Aldo
-
Conor McGregor
and
Frankie Edgar
-
Urijah Faber
bouts to see what his future holds.
But for tonight, there will be some celebrating going on for Mendes, who got precisely the result he wanted in the
UFC Fight Night
main event.
> Watch Chad Mendes' Backstage Interview
"I needed to come in here and make a statement," Mendes said. "That's what I said I was gonna try to do and I got it done. Ricardo's a great opponent, he's been on a tear, so that means a lot."
Using slick footwork and a dynamic striking attack, Lamas kept Mendes from getting inside in the early going, but suddenly a crushing right hand dropped Lamas to canvas in the second minute, and "Money" went all-in for the finish. Lamas would remarkably make it to his feet, only to fall to the mat again after a knee to the head. Lamas rose yet again, but staggered back to the mat, with Mendes on top of him every step of the way. Finally, a couple more unanswered blows to the head brought in referee Dan Miragliotta to stop the bout at the 2:45 mark.
With the win, Sacramento's Mendes ups his record to 17-2; Chicago's Lamas falls to 15-4.