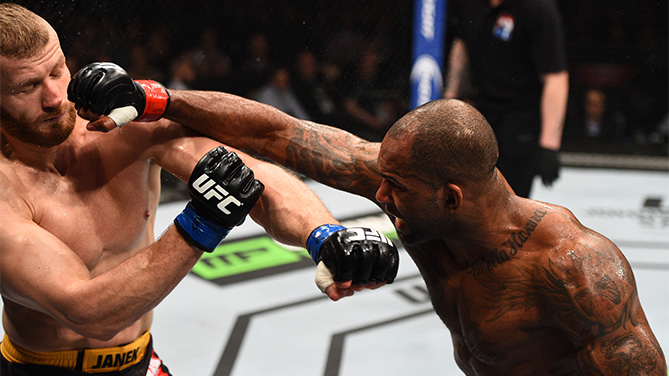 Back in action for the first time since a March 2014 loss to Alex Gustafsson, London light heavyweight contender Jimi Manuwa returned to the win column with a three-round unanimous decision win over Poland's Jan Blachowicz in Saturday's UFC Fight Night co-main event at Tauron Arena in Krakow.

Scores were 30-27 twice and 29-28 for Manuwa, now 15-1; Blachowicz falls to 18-4.

Both fighters had their moments in a measured first round, but it was Manuwa holding the edge over the often tentative Blachowicz. The second frame was much like the first, Manuwa again slightly busier, but neither fighter setting the arena on fire.

Both fighters were more active in the final round, but once more, it was Manuwa who was a step ahead, showing that in his first distance fight, he had the goods to pick up the victory.
PAWLAK vs. WESTCOTT

Polish welterweight Pawel Pawlak entered the UFC win column for the first time, pounding out a hard-fought three-round unanimous decision over Canada's Sheldon Westcott.

Scores were 29-28 across the board for Pawlak, now 11-1; Alberta's Westcott falls to 9-3-1/

Westcott got Pawlak to the mat early in the first round, but Pawlak jumped up quickly. The Canadian remained locked on though, getting another takedown in the second minute. Once more, Pawlak got upright, and the continued grappling against the fence, trading moments of control to the horn.

A knee to the head by Pawlak put Westcott on the deck as the second round opened. But the TUF Nations finalist recovered and again bulled Pawlak to the fence. After a long stalemate, referee Grant Waterman restarted the action with a little less than three minutes to go, but the two locked right back up, with another restart coming a minute later. Pawlak now had the opening he needed, landing a couple hard strikes before taking the winded Westcott to the mat twice.

Pawlak's striking paid dividends as the final round began, but Westcott again killed the Pole's momentum with a clinch. Pawlak was able to turn the tables though, throwing Westcott to the canvas, and it was the Lodz product who controlled the action from there on out, giving the Polish fans plenty to cheer about.
MOROZ vs. CALDERWOOD

Ukraine's Maryna Moroz made an immediate impact on the UFC's strawweight division, upsetting the number six-ranked Joanne Calderwood via first-round submission in the main card opener.

Moroz showed no trepidation as the bout opened, landing hard and crisp combinations that put Calderwood on the defensive. As Calderwood defended against the fence, Moroz pulled guard and sunk in an armbar. Moments later, the tap out followed at the 1:30 mark, with the unbeaten Moroz making it a point to address champion Joanna Jedrzejczyk, who was at Octagonside, about an upcoming fight.

With the win, Moroz improves to 6-0; Scotland's Calderwood falls to 9-1.