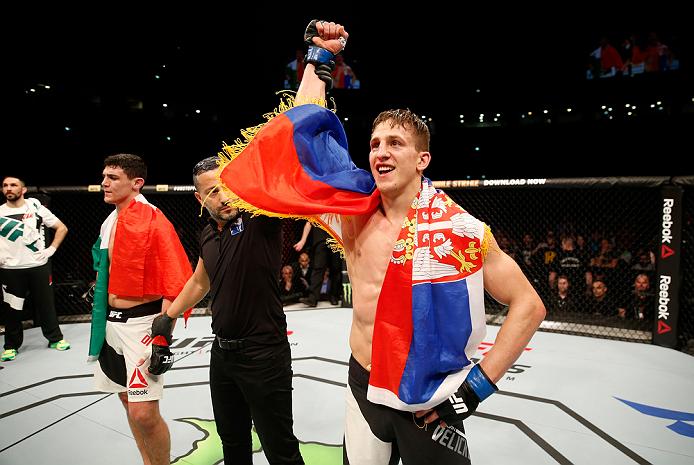 As he stood in the center of the Octagon, confident that he had just earned the first UFC victory of his career, Bojan Velickovic couldn't stop smiling. Exhausted and a little sore from his three-round battle with Alessio Di Chirico, nothing was going to stop him from beaming as Bruce Buffer read off the scores.

"29-28. 29-28. And 30-27, all for the winner, by unanimous decision… Bojan 'Serbian Steel' Velickovic."

With the flag of his homeland draped over his shoulders, the victorious newcomer spoke with Jon Anik, the smile never leaving his face.

It wasn't simply that he had been triumphant in his UFC debut that had Velickovic smiling. That was part of it, sure, but it was also about the journey he had taken to reach that point and what it meant to him to have his hand raised in Zagreb.

"For me, it was great because I left that part of the world to come to the U.S. and make my way to the UFC," the 27-year-old fighter explains. "Then, after all that time, I got the opportunity to have my debut in that part of the world, in Zagreb, which is three hours from my hometown.

"I had my family there, my closest friends, a couple friends from other European countries came to support me and that was a real blessing for me; a dream come true."
RELATED CONTENT: Velickovic featured on UFC FIGHT PASS | Fighter bio | Matchup with Michael Graves
Not many fighters make a straight-line journey to the highest level in the sport. Most stumble and experience setbacks – a lengthy injury cooling their momentum, an unexpected loss forcing them to regroup, opponents on the regional circuit avoiding them like the plague. Fewer still take the circuitous route Velickovic traveled.
His first four fights came as part of a reality television competition – "like a European Ultimate Fighter" – where the prize for winning was a trip to the United States and a fight on a Ring of Fire show in Denver, Colorado. Velickovic won the competition and made the transatlantic journey, preparing for his fight at American Top Team. He then rolled into the Rocky Mountains and scored a first-round technical knockout victory in his North American debut.
He went home to Novi Sad, got his affairs in order and returned to the United States to train, the dream of being the first Serbian fighter in the UFC prompting him to leave family, friends and the life he started building behind.
A spot in the elimination round on season 19 of The Ultimate Fighter put his dream right in front of him, but rather than gaining entry into the house and perhaps a spot on the UFC roster, Velickovic was dropped six seconds into the third round of his fight with Tim Williams, suffering a broken orbital floor in the process.
"I had the option to go back home to Serbia and forget about my dreams, or go back to college, or stay (in Florida), find a job and recover," Velickovic recalls. He opted to stay in South Florida, worked odd jobs with flexible hours that allowed him to remain focused on his recovery and he continued pursuing his dream.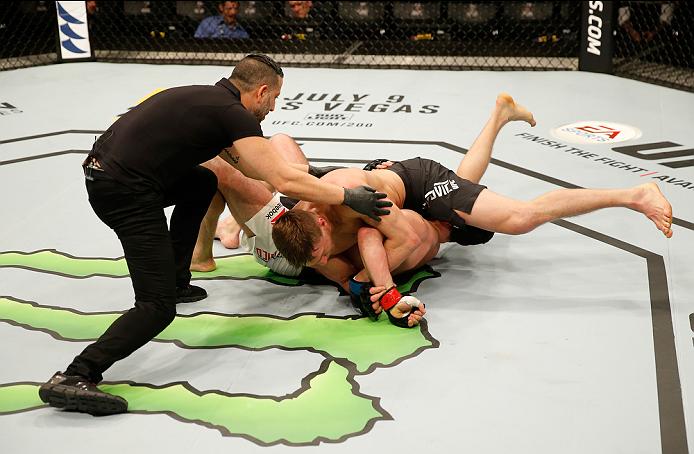 Once he got healthy, Velickovic signed with Resurrection Fighting Alliance, losing his promotional debut to UFC vet Gilbert Smith. After a spot on Season 21 of The Ultimate Fighter fell through at the 11th hour, he accepted an invitation to do his next training camp in Denver, working with the Elevation Fight Team. He hasn't left since.
And he hasn't lost since that meeting with Smith either, winning the RFA welterweight title and turning a four-fight winning streak into the opportunity he left home chasing four years earlier.
"I definitely didn't choose the short cut, but I got my way in after four years and seven fights," laughs Velickovic, who squares off with former training partner and American Top Team prospect Michael Graves in UFC 201's UFC FIGHT PASS Featured Prelim on Saturday. "It wasn't easy at all, but I'm real happy that everything worked out the way that it did – that I had this experience and that I know what I know now. It made me a lot tougher than when I came to the U.S.
"It's an honor for me to represent my country and represent it well; that's what keeps me going, motivates me and makes me work hard every day," he continues. "The last couple of decades, there were a lot of political issues and wars and all kinds of bad press when it comes to my country, and now everything is changing towards being a good, modern democratic country and I'm glad that I can represent that.'
Having accomplished his goal of reaching the UFC and becoming the first Serbian fighter to do so, Velickovic has now set his sights on another achievement – one he shares with every fighter that crosses the threshold into the Octagon.
"My father always told me, 'Whatever you decide to do in your life, try to be the best.' I decided to become a fighter and now that I'm competing in the best promotion in the world, I want to become the best. I want to become the champion.
"But I don't want to talk right now about the title or being Top 5," he adds with a laugh. "It's my second fight in the UFC and it would be stupid and too ambitious to talk about something like that. I'm going step-by-step."
After a six-year, 16-fight odyssey to reach the UFC, what's a couple more fights and a couple more years to a guy that is living his dream?