"Literally hall of famers are the only ones who've beaten him & I'm gonna do that Saturday night. I'm definitely going to open a lot of eyes. This is my coming out party & the world is going to know me."

Hear what @AlexVolkanovski thinks about opponent Chad Mendes #UFC232 pic.twitter.com/Pxbrw8Tqz2

— UFC News (@UFCNews) December 27, 2018
For some fighters, 2018 turned out to be a breakout year. Fighters like Israel Adesanya, Anthony Smith and Thiago Santos elevated their game to a new level during the UFC's 25th year.
Another fighter who is looking to add his name to that list is Alexander Volkanovski. With wins over Jeremy Kennedy and Darren Elkins, Volkanovski has quickly moved up the featherweight rankings. After his win over Elkins at UFC Boise in July, Volkanovski called out former title challenger Chad Mendes.
The call out was all part of Volkanovski's plan to go from prospect to contender. And with a win at UFC 232, he could find himself as one of top five ranked fighters in the division.
We caught up with Volkanovski ahead of his main card showdown to discuss the first time that he saw Mendes, why he thinks he can defeat Mendes and why he thinks UFC 232 will be his coming out party.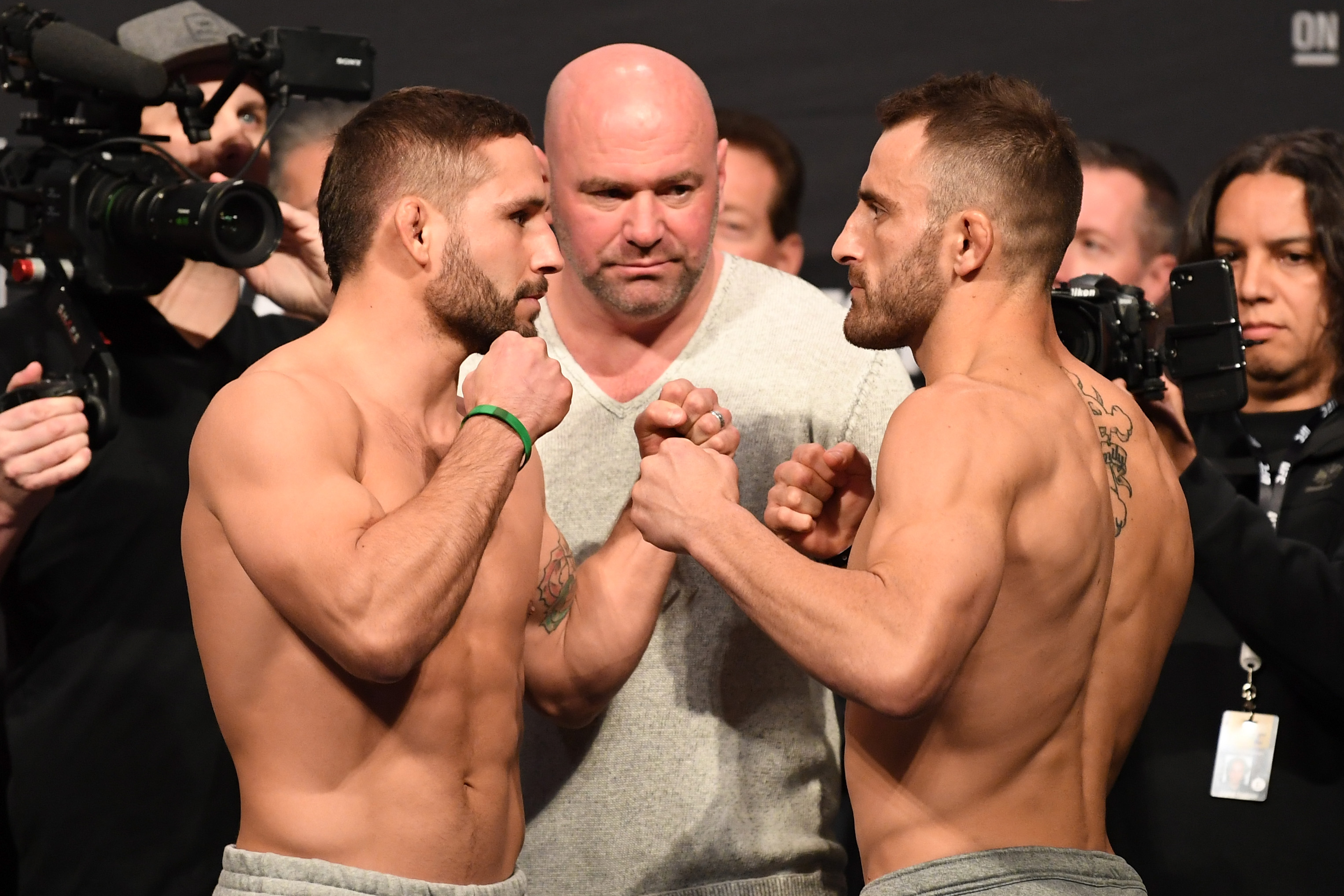 UFC: You were on the same card as your opponent, Chad Mendes, in Boise. You even called him out from the Octagon after your win. Did you happen to run into him at all that week?
AV: I didn't see him after I called him out, but I did see him before at the weigh-ins. I just remember looking at him and thinking—again, I'm small; I'm so used to taller people, people bigger than me. Especially guys I fought, I've fought up to middleweight---I remember looking at him and going, "man, he's small." I'm thinking I'm just towering over him. I've got that Little Man Syndrome: I think I'm 10 feet tall. He's probably still taller than me. Nah, I think we're the exact same height. It's gonna be good. I've got nothing against him. Yeah, I called him out, but I got the fight. So I might have run his name in the dirt a little bit about his suspension and that, but it got me the fight. So maybe I've got to run some dirt on some future opponents [laughs].
UFC: There's obviously a reason why you had Chad's name in your head. What excites you about this matchup?
AV: I want to shoot through these ranks as quick as I can. And I knew that—him coming off a suspension—I knew if he got the win, he would be straight into the Top 5. Whether I think he deserves to be there so quick [shrugs]…but I knew he would and that's why I had that strategy to call him out. And not just that, I want to fight these tough guys. I do think he's still strong and powerful, but at the same time I believe I can beat anyone in the division. So whoever it is that's in front of me, bring it on. And it's Chad Mendes at the moment. He's very explosive and powerful, but it's things I've seen before. I've trained with so many guys like him. So I can't wait to get out there and show the world what I'm capable of.
UFC: What are some things you see that he does particularly well, and on the opposite side, where are your advantages when the Octagon closes?
AV: We actually have a pretty similar sort of style, so things I do well, I think he does well. Again, he's a powerful puncher. I think I've got more tools and I think I'm more calculated than him. But he's powerful, he like to draw people in and use them big shots. Or he likes to explode and come forward with them big shots. And if you take him down he's got good hips, he's a good wrestler. But at the same time, I'm gonna keep a pace. If he's stopping takedowns, I'm punching him in the face, I'm working again. I don't care if he gets me down, I'm getting back up. I'm gonna elbow him. I'm gonna be on him the whole time. I'm gonna work him. I've prepared for the worst, but I'm expecting to go out there and finish him early.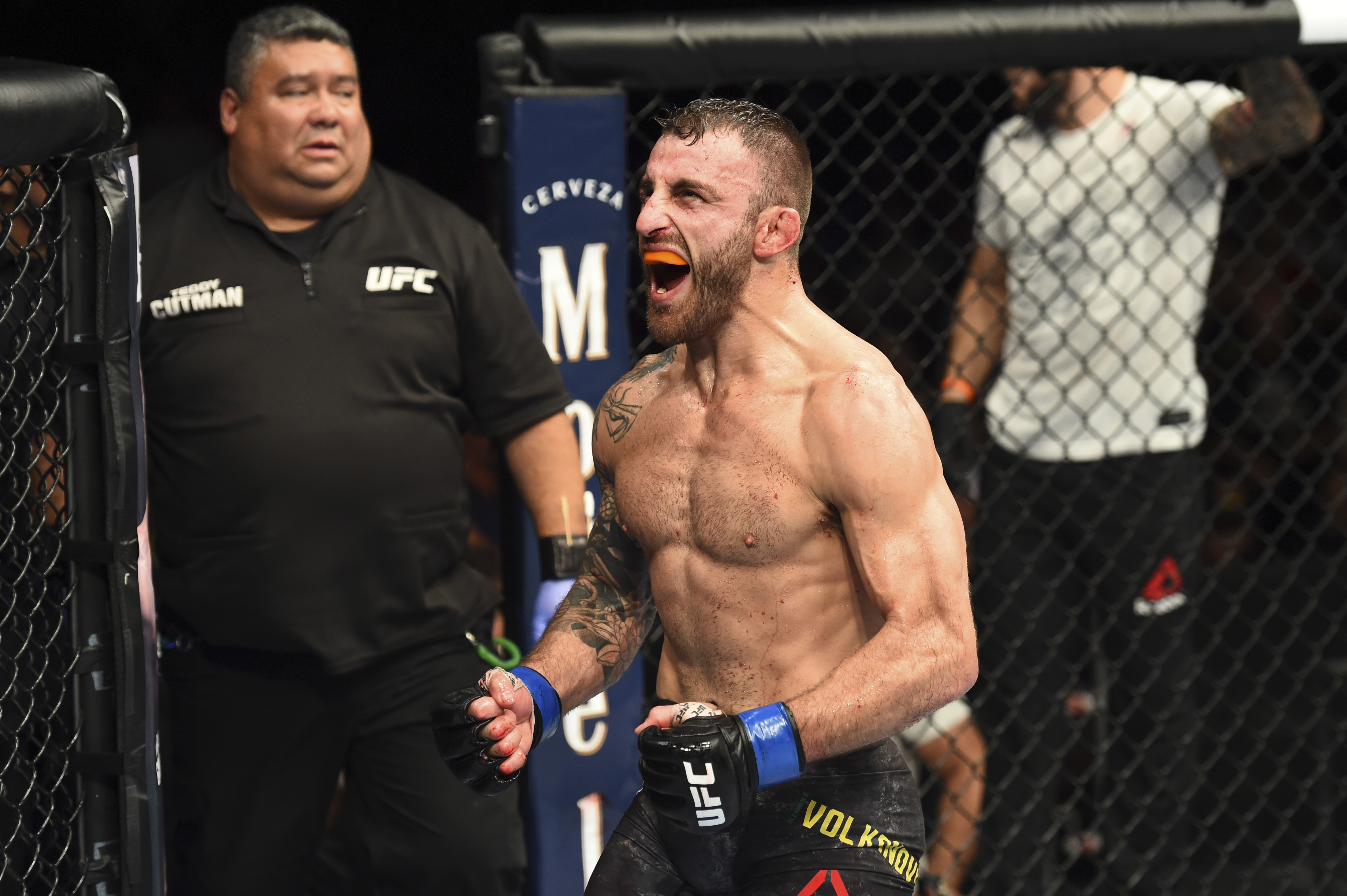 UFC: Do you feel like this fight is your chance to put the world on notice and get the attention of the division?
AV: One hundred percent. This is one of the biggest cards of the year against one of the greats and he's only lost to the greats. So if I got out there and take him out, I'm one of the guys in our division like the hall of famers; the only ones to have beat him. And I'm gonna do that Saturday night, so I'm definitely gonna open a lot of eyes. This is my coming out party, and the world is gonna know me.
UFC: You said you have a style similar to other guys, but what makes you so dangerous in this division?
AV: I'm a pressure fighter and I'm really fit. I'm as powerful as the most powerful guys in the division, I'm as fit if not fitter than everyone in the division, I'm just as fast as them, and I believe I'm very well-rounded. I believe I can beat anyone anywhere. That's the thing, if someone is doing well somewhere, I've always got so many other things where I can follow him. And again, I can go all day. You put me in there for 20 rounds, I'll take out the division in one day.
UFC: If you could lay out your perfect recipe for success on Saturday, what are the steps once the Octagon door closes?
AV: I wanna finish him. So I'm going to go out there, work my game, and I'm gonna force reactions out of him…and I'm gonna capitalize on it and put him away. And that's how I want it done.
Make sure you watch Volkanovski take on Mendes live on Pay Per View tonight at 10pm/7pm ETPT.
Gavin Porter is a digital producer and writer for UFC.com, follow him at @PorterUFCNews