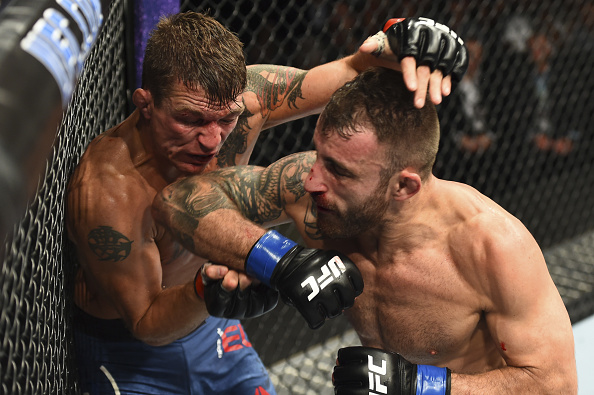 In a year where fighters from Australia and New Zealand have made major waves,
Alexander Volkanovski
has still managed to stay somewhat under the radar.
Overshadowed by
Israel Adesanya
's four-fight ascent in the middleweight division and overall swagger, the violence and toughness exhibited by
Dan Hooker
, and the emergence of
Tai Tuivasa
in the heavyweight ranks, the former rugby man has quietly emerged as a dark horse contender in the 145-pound weight division.
He started the year by bouncing
Jeremy Kennedy
from the ranks of the unbeaten and then followed it up by putting a hurting on
Darren Elkins
in July, but with the division churning out incredible fights and memorable performances at a break-neck pace, his efforts have quickly taken a back seat to the next breathtaking display turned in by the latest ultra-talented UFC featherweight to climb into the spotlight.
But this weekend at UFC 232, Volkanovski gets the opportunity to make a massive splash and close out his 2018 campaign in the thick of the title conversation as he takes on perennial contender
Chad Mendes
in the opening bout of Saturday's pay-per-view main card.
"This is going to open a lot of eyes," he said of this weekend's matchup with Mendes, who returned from a two-year hiatus to score a first-round knockout win against
Myles Jury
earlier this summer.
Mendes' comeback win took place the same evening as Volkanovski's emphatic performance against Elkins, and the Australian used his time on the microphone following his win to make his case for facing Mendes next, even before the long-tenured contender had stepped into the cage.
"I threw out the whole suspension thing and threw a bit of dirt on his name about it, but I just wanted to get that fight," said Volkanovski, who is 5-0 in the UFC and carries a 15-fight winning streak into Saturday's showdown with the Team Alpha Male staple. "He's probably a cool dude, a nice bloke, but I wanted that fight and it worked, so maybe I've got to throw dirt on more people so I can get the fights that I want."
Landing a fight with a two-time title challenger and Top 5 fixture for your sixth trip into the Octagon is a pretty impressive feat — especially in a division as talent-rich as the 145-pound weight class — but it feels slow to Volkanovski.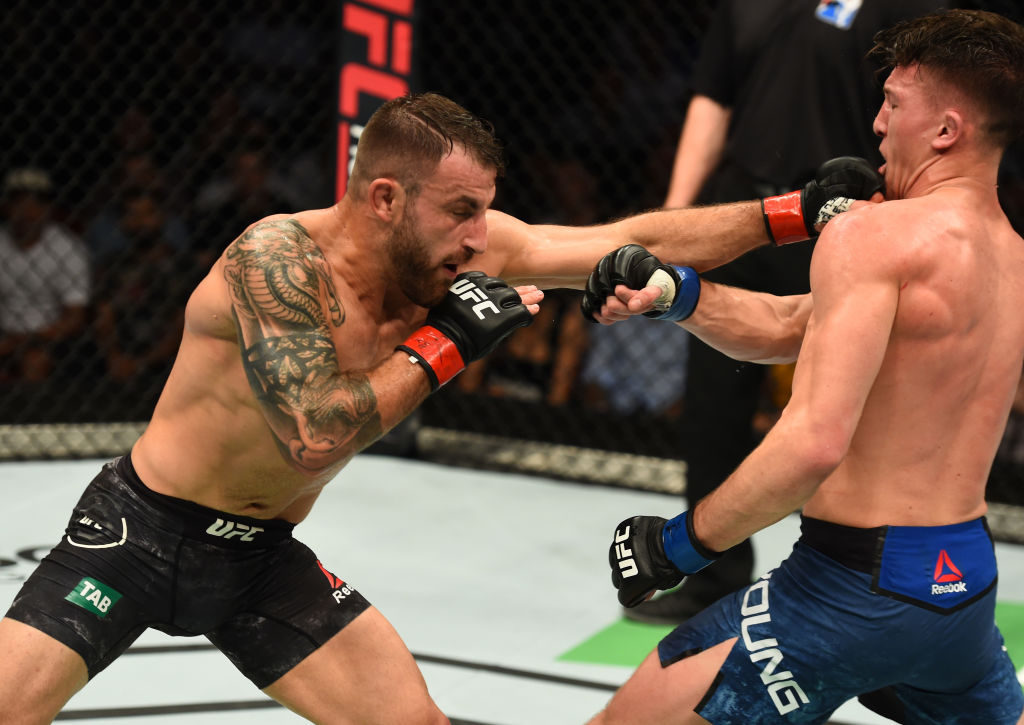 A standout on the rugby pitch and the Australian regional circuit, the 30-year-old had no real interest in slowly trying to figure out where stood in the division upon signing with the UFC, but save for a few understandable exceptions, no one walks onto the biggest stage of the sport and gets to square off with elite competition right out of the gate.
After earning solid wins in his first two outings, he was scheduled to face Kennedy last winter in a battle of emerging newcomers that would improve the winner's position in the divisional pecking order, but the Canadian was forced from the contest and replaced by
Shane Young
.
The bout was rescheduled for UFC 221 in Perth earlier this year and beating Kennedy at his own game, Volkanovski got the step up in competition he was looking for with the bout against Elkins.
"I expected it to go quick; I really did," said the Australian, who has finished his last few training camps working alongside Adesanya, Hooker and the rest of the City Kickboxing team in Auckland, New Zealand. "I honestly thought it was a little bit slow the first few fights.
"I wanted some bigger names earlier to be honest with you, but as soon as I got the Darren Elkins and now this one, now it feels boom boom — it's going quickly and this is how I expected it to be.
"But I was still surprised when I got these fights," he added. "Guys in the Top 10 don't want to fight guys that aren't even ranked. They look at me and think 'this guy is a big threat and he's not even ranked; why would I want that f***** fight?'
"Chad said that he wanted someone else — this is a high-risk, low-reward fight for him and he was pretty honest about that — but at the end of the day, the UFC were adamant about having him fight me. The UFC sees something big in me and the world is going to know why December 29."
Whenever a relative newcomer starts making his or her way up the divisional ladder, there are always questions about where their ceiling rests and how they would do against certain fighters and in different style matchups.
Volkanovski has been hearing those questions all year, listening as people wonder how he'll handle each step up in competition, turning each successive matchup into the one that will really show if he's capable of making a run at the title or not.
He's also sat patiently, biding his time as other upstarts have posted quality performances and garnered more attention, knowing that his bout with Mendes was on the horizon and his efforts would make it clear that he's not someone to overlook.
"People keep going on like, 'Has Alex faced an actual wrestler?'" he said with a laugh. "They said that about all of them — Jeremy Kennedy, Darren Elkins and now Chad Mendes — so once I show that I'm stronger than all these guys, the questions stop.
"There are no more hurt ribs this fight," said Volkanovski, who popped a couple ribs just a few days prior to his bout with Elkins in July, but still managed to go out and put it on the resilient wrestler. "I'm going to pursue whatever is in front of me. If he wants to wrestle, I'm going to make it hell for him. If not, then you get to see all my other tools.
"Let the two hobbits go at it and see who's the G," he added. "I really think I'm the strongest guy in the division and I get to show that on December 29, so I can't wait."