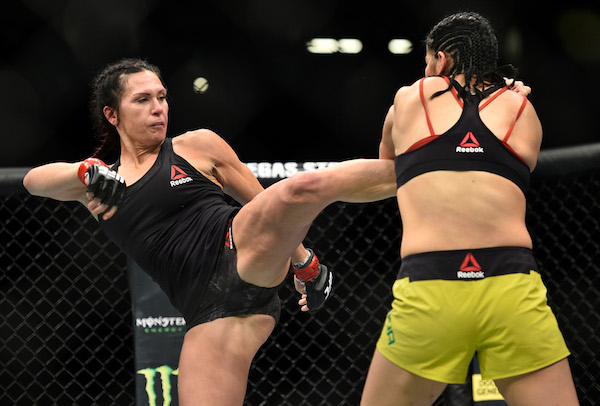 To say Cat Zingano is one of the first women to fight in the UFC could be an understatement. She was literally in the second women's bout in the promotion's history when she beat
Miesha Tate
by TKO at the TUF 17 Finale. Zingano followed that up with a third-round TKO of
Amanda Nunes
, which still stands as the bantamweight champion's last loss more than four years later.
And yet, life hasn't gone swimmingly for "Alpha Cat." She suffered three losses over the course of three years, including a year-and-a-half-long layoff due to injuries. However, Zingano bounced back into the win column with a unanimous decision over Marion Reneau at Fight Night Boise in July 2018. With a featherweight bout with Megan Anderson on tab at UFC 232, Zingano hopes to build off her first win in nearly four years with another one.
Regaining her groove took sacrifices from Zingano, including moving her training from Colorado to San Diego, California.
"I wanted to be all-in with this sport," she said. "I picked up my kid, our dog, got all of our stuff and drove west because I know what I am here to do. I know that the purpose of why I am training for is much bigger than what I was accomplishing while I was in Colorado. I had the best of the best there, and I love my team and my coaches there. I'm still very close with them, but it was important for me to do what I needed to do and that meant relocating and changing everything."
But even a move to the coast couldn't solve everything for the 36-year-old. She decided to change things up and individually pick coaches to focus on different aspects of mixed martial arts. Zingano sought out a place to practice traditional Muay Thai, and another place where she could work on her jiu jitsu, wrestling, judo and any other element she might want to improve. That independent focus on disciplines might not be the most popular way to go about things, but for Zingano, it has allowed her to learn about herself at a deeper level.
"A lot of people ask me, 'How do you stay motivated?' Well motivation is an emotion," Zingano said. "You can't stay any emotion forever, so you have to find ways to be motivated, and days that I don't have it, I need them to have it, and going in and showing myself what I can do and figuring out what I can't do and working on that, constantly having the right kind of feedback in a language that I can hear, it helps me grow."
She mentioned that while having different coaches for different elements of her game might make things a little awkward for her coaches, she's doing what she believes is best for her in her career.
Heading into this fight, her energy and enthusiasm toward her new approach toward mixed martial arts is evident, and with a move up to 145 pounds for her fight, the weight cut is a little easier as well.
"It's never easy," Zingano said. "I guess it was nice to have a little bit more energy to sprinkle on different things I could focus on instead of worrying about my weight the whole time, but I'm still worrying about my weight. I was a very big bantamweight. I'm still a big featherweight, so it's all the same but a little different."
All the same but a little different just might sum up Zingano's potential resurgence as a player in the UFC. She said that she would like to return to 135-pounds after this fight, but she could also find herself in a favorable position should she get the win over Anderson. Women's featherweight isn't the most affluent division when it comes to the quantity of fighters, and Zingano's wins over Tate and Nunes shows that she can take down some of the best the promotion has to offer.
Regardless, Zingano has been in the game for long enough to know what she needs to do. In fact, as she continues to learn about her own self at a deeper complexity, she could put on a display of that maturity and development to create a positive 2018 as her career continues.
UFC: It's finally fight week, how are you feeling?
Cat Zingano: Fight camp, preparation went perfectly. Everything went according to plan. It was really nice to have some extra weight to play with and some energy to go along with that. It's a lot of adjusting to do with the new plans and everything that's been going on with the movement of the venue of the fight, but I'm still in it. I'm still excited about it. Everything is focused, my eyes on the prize and none of that has actually changed.
UFC: You got back into the win column in your last fight. Heading into this bout, how do you build momentum and keep racking up victories?
CZ: In this sport, and in everything in general, the past isn't important. The future isn't important. I'm looking right at this fight right now. Nothing else matters, so yeah, I'm excited that I got to put on a decent performance on the last one. That still wasn't the best me, but it is an improved me, and yeah, I want to keep the momentum. I want to keep it going going into this fight, showcase all the things that I know and that I've done. I feel great about it. It's exciting to see me again. I'm really excited about the changes that I've made and the decisions that I've made because those have built my confidence and that is everything to me. I'm happy to be happy with all of it.
UFC: Talking about your opponent, Megan Anderson, she came in with some hype before she made her debut this year. What do you see in her that makes her dangerous and where do you have the advantages?
CZ: What I see in Megan that makes her a tough opponent is that everybody on this platform, on this level is tough. Nobody got here by sucking. Everyone got here by doing their best and it proving them to earn them this spot. She's big. She's tall. She's lanky. I haven't had a whole lot of experience with fighting people that much more dimensions than me. That's only in this sport. In wrestling, in other things that I did, I actually really loved going against bigger people because there's a lot more to grab. If she gets close enough to me, that means I'm close enough to her, and it turns out well. I have respect for every single fighter, every single girl up in here. They're working their buts off, and we're all here trying to drive our way through what we're working through. She's good, but I'm better, and I came here with everything I have."
UFC: You've fought Amanda Nunes and won. You know what it's like to fight someone at their peak. Looking at your fight and Amanda's with Cris Cyborg, why is it important that this is kind of a showcase for the division?
CZ: I think it's important for the 145 division because these are all very serious fights. I know Amanda, I think she can get big. I don't know. I saw her on the treadmill this morning, which is pretty indictive of a weight cut. Cyborg has obviously done what she's done and made a name for herself, and yeah, there's a lot of change going on here. There's a lot of trying things. It's very cool because the matchmaking system, it almost feels like it did when the UFC first started when it was just matchups. No weight classes, and let's see what happens between this person and that person. To me, that's exciting. That's why I became a fan in the first place is to just see what happens. Everybody is really well-rounded. These girls all came here to bang. We're all tough. We all have a pedigree to us that has been proven along the line. It's great. I don't really get to think about them that much. I'm focused on my fight and what I'm going to do, but it's a historical night, and I'm pretty excited about it.
Zac Pacleb is a writer and reporter for UFC.com. You can follow him on Twitter @ZacPacleb.