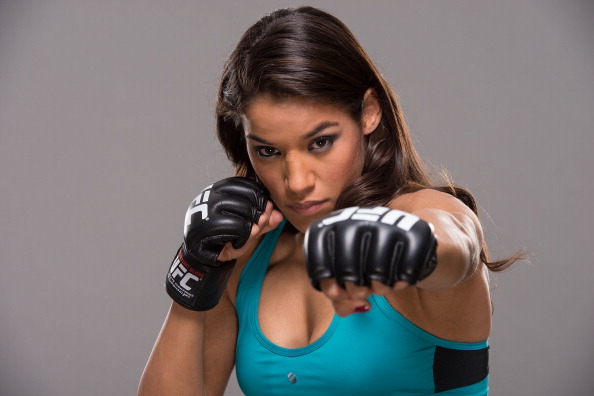 Julianna Pena doesn't pull any punches in the Octagon, and she certainly doesn't hold back when the gloves are off either. So she knows exactly what's at stake when she faces Cat Zingano on the biggest show of the year on July 9.

It's UFC 200, a chance to take down a top contender and, as far as she's concerned, win her first championship fight. And she doesn't even care that she won't get a belt for her trouble next week.

"The reason I say it's like a title fight to me is because she (Zingano) beat the champ (Miesha Tate) right now and she's beaten the current champ's opponent (Amanda Nunes)," Pena said. "So, this girl's the toughest girl on the roster and she's coming off a loss against Ronda (Rousey) and people usually come off a loss a lot smarter and a lot tougher, so I'm looking at her and at this fight like it is a championship fight. She's very dangerous and she's going to be the toughest fight that I've ever had."

In the interest of causing some trouble, I tell Pena that I thought she was the toughest in the division. She laughs.

"I am in the toughest in the division. So it's like the toughest going up against the toughest. It's like one train meeting another train in a head-on collision. You're not gonna want to forget your popcorn on this one, because it's going to be a whirlwind of complete chaos, and that's what I'm preparing for. I'm preparing for the biggest war and the biggest fight of my entire life."
RELATED CONTENT: Matchup with Cat Zingano | Julianna Pena fighter bio
Pena, 26, has a rare gift. She's one of those select few on the fighting landscape who can get you excited for a fight and then deliver the goods when the Octagon door closes. The first part, that comes from a sometimes brutal honesty that she's not afraid to share with anyone. The Spokane native is under no illusions when it comes to her day job. She knows that it's a fight she's getting into with the dangerous Zingano in a little over a week, and when asked if that whole process of getting ready is stressful, she doesn't hesitate to answer in the affirmative.
"Yeah, it is stressful," she said. "I've got a lot of pressure riding on my shoulders, but I've been in these pressure situations before and I've handled them well and I'm looking forward to going in there and getting this type of opportunity. You're fighting on the biggest card of the year on the biggest stage in the world. It doesn't get higher than the UFC, and this isn't just a United States thing, this is a worldwide thing. I've got a whole country behind me, I've got people in China watching me, I've got people in Australia watching me, and so there's a lot of pressure, but it's not anything I don't think I can handle. You've got to be excited about this, you've got to be excited to shine under those lights on fight night, and you've either got it or you don't, and I feel like I'm one of those people that when the lights come on, I shine."
Ranked fifth in the world at 135 pounds, "The Venezuelan Vixen" has the resume to back those words up. Unbeaten since 2013, Pena has yet to lose in the Octagon, defeating Jessica Rakoczy for the Ultimate Fighter season 18 crown, stopping Milana Dudieva and decisioning Jessica Eye. In between was an arduous rehab for a serious knee injury, but she's back and eager to let the world – or more specifically her peers in the bantamweight division – know it.
"I am the force to be reckoned with, and I am your worst nightmare," she said. "I am the worst possible matchup for any girl at 135 pounds and I truly believe that."
The bout with Zingano is an intriguing one, and not just because of both fighters' standing in the division. Zingano, whose last two wins were stoppages of Tate and Nunes, is a notoriously slow starter who picks up steam as a fight progresses. Pena is ready to finish as soon as the referee says, "Go," making the first round a pivotal one. But she's not about to dismiss Zingano or prepare for a quick finish.
"I don't ever want to discredit my opponents. Cat is very strong, and she's always getting her ass kicked up until she's winning the fight," she laughs. "So I think that's a great benefit to her, and I'm not going to try to take away from her strategies or what it is she has planned. All I know is that she's coming off a 14-second loss to Ronda and that she's probably going to have a better fight IQ for this next fight. I think that she's very dangerous and she's a very strong girl. But I can't worry about too much about what she's going to do. I need to focus on myself. So my main objective is the same as it is in every fight – go get in this girl's face, go put the pressure on this chick and break her will and make her quit. That's my game plan for every fight and it's what I plan on doing on July 9th."
If you're a writer mining for gold, a fan who wants to see a fight, or a bantamweight who wants to get into one, you have to like Julianna Pena. But is the world outside of MMA ready for this young lady?
"Whether they're ready for me or not ready for me is none of my business," she said. "I'm ready for me and I'm ready to show the world what I can do and remind these people of who I am. I am Julianna Pena, I am the Venezuelan Vixen, and I am a fighter, through and through."