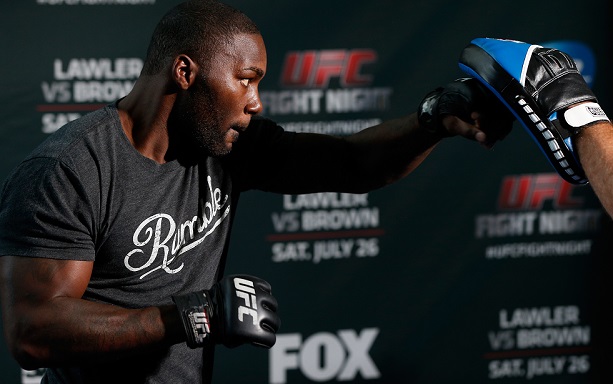 Anthony Johnson may be on course to fight Alexander Gustafsson, but he wants a shot at Ryan Bader first.
Johnson, the No. 5-ranked light heavyweight in the world, watched Saturday night as No. 8 Bader dominated No. 10 Ovince Saint Preux in a five-round main event matchup in Bangor, Maine. And "Rumble" wasn't very impressed with what he saw.
"It was a boring fight," Johnson said. "Exciting fighters put on exciting fights, and that's what fans want to see."
After a ferocious KO victory over Antonio Rogerio Nogueira on July 26, Johnson has just been lying low while he waits for his next assignment. He's getting back in the gym this week and hopes to get a fight in the very near future.
Last week, UFC President Dana White said the fight that made the most sense for Johnson would likely be former No. 1 contender Alexander Gustafsson. Rumble said he would love to fight "The Mauler," but he's also hoping to fight one more time before then.
"Hopefully I'll be able to fight in late October or something like that if there are any fights open," Johnson said. "I was hoping I could fight Ryan Bader in late October and fight Gus on the Jon Jones card. That's my idea.
"People finally want me to start calling people out, you know what I mean? I never did that before. But I've always wanted to fight Ryan Bader because I've always thought he was a tough fighter."
> Read: Full Recap of Fight Night Bangor
If and when Johnson and Bader meet, Rumble said he feels Bader would have no choice but to stand and bang with the dangerous Johnson because he wouldn't be able to take him down.
Johnson said his takedown defense always him to force his style on his opponents.
"Nobody has really seen my wrestling, so a fight with [Bader] would be a good way for me to display my wrestling," Johnson said. " In my opinion, he is a better wrestler than Phil Davis."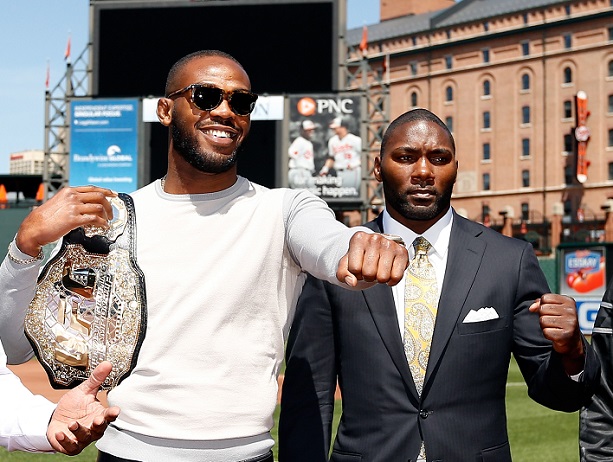 Johnson vs. champion Jon Jones may not be in the immediate future, but the eventual showdown between the two has fans giddy with excitement. Much of that buildup likely is a result of the pre-fight smack that boiled over between the two before Jones injured himself in training.
Johnson said Jones may have exposed himself with his behavior toward No. 1 contender Daniel Cormier in recent weeks.
After Jones and Cormier dumped a can of gasoline on the fire that was their simmering feud by brawling in the lobby of the MGM Grand at a preliminary UFC 178 Ultimate Media Day, Johnson said the champion may have shown his true colors in the fallout from the brawl.
"(Those) two going at it, supposedly off camera, that was pretty crazy. I wish some of things that were said weren't said, but hey, they're not talking to me, so I don't care," Johnson said. "Jon is an awesome fighter, nobody can say he isn't. He is amazing.
"As a person, I don't know Jon, you know what I mean? I don't know him personally, and I don't care to know him or anything like that. I just know he is an athlete. I respect his abilities. He is doing things that other people can't do."
Johnson said he believes Cormier got to Jones emotionally, but was also impressed that the champ was able to maintain his professional side when the cameras went back on. Fighters have to maintain that balance, Johnson said.
"Everybody has to have an off-on switch, one way or the other," he said. "I think he is doing that the right way. I think he got exposed a little more than he would like. I think Daniel got to him emotionally.'
> Watch: UFC Minute for All Your News Needs
The new-look Johnson, whom White has praised as being a true professional, has come along way since his first run in the UFC. Rumble said it's a product of his new focus, which he said is at an all time high. He's taking training more seriously and is thrilled with his coaches and training partners.
At the top of that list is friend and Blackzilian teammate Rashad Evans, who Johnson faces off against every day in practice. Many have wondered if the two would ever consider a fight down the line, but both have been adamant in their refusal to fight each other.
Johnson will move to heavyweight before he would fight Evans.
"That just won't happen. That's just how it's going to be with me. I'll tell them I'll go up to heavyweight and fight," Johnson said. "By that time Rashad should have a fight, and whatever the outcome is going to be, is going to be. Then I can have my fights at heavyweight or light heavyweight.
"But I won't fight him, ever. We fight each other every day in the gym, so I think it's just pointless to go down that road and fight a brother."
As far as the fights that will happen, Johnson said a matchup with Gustafsson would be very interesting.
"It will be a good fight. Gus is taller than me, but I think we have the same amount of length of reach. So it'll be interesting," Johnson said. "Gus likes to move a lot and I like to stalk people and see what they have to offer. It will be a hell of fight. I definitely want to give the fans what they want to see.
"Hopefully we can make the Jones-Cormier fight, one of those fights where that whole card is like a preview of what the light heavyweights have to offer."
Find UFC.com Web Producer
@MattParrino
on Twitter and don't forget to leave your thoughts in the comments section below.