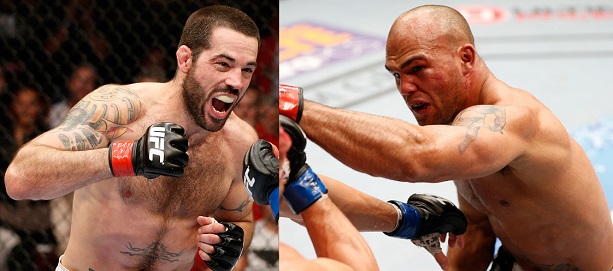 Coming off one of the most memorable performances in recent UFC history, Matt "The Immortal" Brown was looking to step up to the next level of competition after knocking off
Erick Silva
at Fight Night Cincinnati. The Ohio native got his wish in a big way Tuesday afternoon.
UFC President Dana White announced on Twitter that Brown is set to face No. 1-ranked
Robbie Lawler
on July 26 in the main event of UFC on Fox in San Jose, Calif.
Lawler is set to appear in the Octagon for the third time in just over four months when he battles Brown. Lawler is 4-1 in his last five fights and is coming off another impressive performance at UFC 173 when he TKO'd
Jake Ellenberger
in the third round.
||
SPECIAL COLLECTION:
Some of Brown and Lawler's greatest fights only on

||
Lawler's only loss in that span was a razor close decision in the UFC welterweight title fight against
Johny Hendricks
at UFC 171.
Dana White also confirmed that the winner of Brown-Lawler will be the official No. 1 contender and get first crack at Hendricks for the 170-pound title.
Brown is on a remarkable seven-fight win streak, six of which have come by knockout or TKO.

TWITTER REACTION