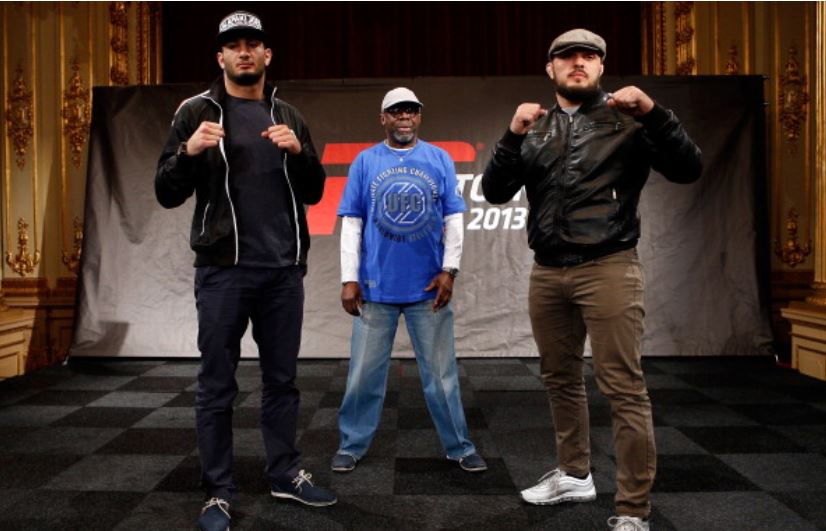 Rashad Evans:
"[Latifi] was one of the first members of the Blackzilians. We trained together. He was strong. I started calling him 'The Strongy.' He's a good wrestler and has a lot of power in his hands. He can put you out with one shot." -via
UFC Tonight
Kenny Florian:
"Latifi is a national champion in wrestling in Sweden. If we've seen a weakness in Mousasi in the past, it's with guys who can take him down and control him, so perhaps Ilir has the style that will give him a lot of problems.
"Mousasi is a true veteran. He's so fast at 205 pounds and he has excellent submissions. You have to think about his mindset going into this. He was preparing for Gustafsson and now he's training for a completely different opponent. He went from a really tall guy to a short, stocky wrestler." -via
UFC Tonight
Cub Swanson:
"I was excited for the Gustafsson fight so I was kind of like 'Oh no!' but it's an interesting way for it to turn out. I was just watching the new guy's highlight video online and he looks good -- fully capable. I think his strengths play into Mousasi's weaknesses so if he goes out there and doesn't let the lights get to him and all the hoopla -- which it can -- he can go out there and make a huge name for himself. It's a good chance for a Cinderella story."
-via
UFC.com
Magnus Cedenblad:
"I didn't think this would happen. I'm damn excited for my friend Ilir, I think he can take this! I'm in shock, so happy to give that Albanian bull a big hug! Hard for Mousasi - he was set on fighting a 195 cm boxer, now he's facing a 160 cm Albanian bull with submissions. Mousasi lost to King Mo by being taken down. Ilir can do the same." -via
Twitter
Gegard Mousasi (via manager):
"Gegard and our team are disappointed to not be able to compete against Alexander Gustafsson. However, we understand the fight business and wish Alex a speedy recovery. We want to thank Ilir for stepping up last minute to take this fight. Gegard intends to make a great show with a strong performance for all the fans. Thank you to Dana White, Joe Silva, and the rest of the Zuffa team for working so diligently on this matter. Now it is time to fight and make a great show for the fans!" -via
MMANYTT
Ilir Latifi:
"I just want to thank The UFC, Mr. Dana White, Mr. Joe Silva, Mr. Lorenzo Fertitta Mr. Manos Terzitane and Mr. Gegard Mousasi for giving me the chance to fight in UFC Stockholm! I want to thank all my fans around the world and I will do my best to make this the Fight of The Night!" -via
Fightplay.tv
Alexander Gustafsson:
"[Latifi] is a good friend of mine, a good person. He's a great athlete. He's tough. I can't wait to see it. You won't find a better guy. I'm sorry to let my fans down, but I can't be depressed about this. It's done. It's fixed. I can just look forward now. I learned a lesson. It's not going to happen again." -via
MMA Junkie