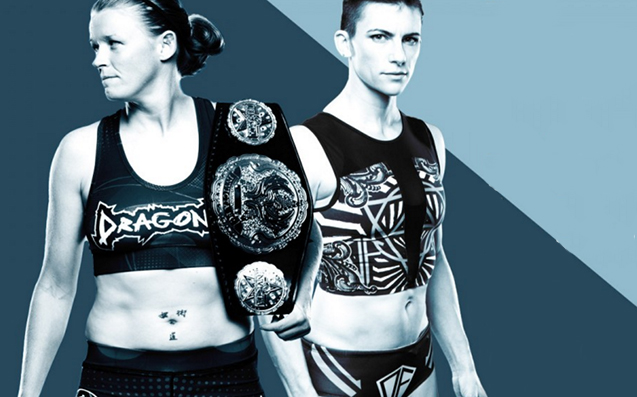 Tonya Evinger is on some kind of roll right now and it doesn't look like there is anyone on the Invicta FC roster that is going to be able to stop her.

Saturday night in Costa Mesa, California, the surging bantamweight champion successfully defended her title for the second time, extending her winning streak to nine with a unanimous decision win over "The Thoroughbred," Colleen Schneider in the main event of Invicta FC 17.

This wasn't the kind of lopsided effort that Evinger turned in while winning the title against Irene Aldana or in her victory Pannie Kianzad, but it was a strong performance from "Triple Threat" nonetheless, as she used her wrestling to control Schneider for long stretches of the bout en route to a sweep of the scorecards.

It appeared as if Evinger was going to get a finish early as she dropped the challenger with a short left hand just over a minute into the first, taking control on the canvas and punishing Schneider up until the horn. There were no other close moments during the bout, but it was largely all Evinger over the remaining four rounds.

Her wrestling and clinch game was on point throughout, and while Schneider proved to be game, she was also overmatched. It'll be interesting to see what comes next for the 34-year-old champion, who would be a wild card if she were thrown into the mix in the UFC and is clearly one of the top bantamweights in the world.

Hill stays perfect in Invicta FC cage, claims title by split decision

Angela Hill made a sudden impact once she joined the Invicta FC roster, posting consecutive stoppage victories in her first two outings to earn a shot at the strawweight title, but champion Livia Renata Souza had made it clear that she had no intentions of relinquishing control of the division and those conflicting designs produced an entertaining fight in the night's co-main event.

Over the first two rounds, this one played out as a clash of styles, with Hill controlling the action on the feet with her movement and volume, while Souza attacked with trips and takedowns, hunting for submissions as soon as the two locked up. But as the fight wore on, Hill began to distance herself from the champion, stuffing telegraphed takedowns and continuing to snipe and move as Souza plodded forward.

In the fourth, Hill started opening up, forcing Souza to fight her in the center of the cage, bloodying her nose with repeated jabs and stinging her with sharp, crisp kicks down the stretch that left the Brazilian walking to her corner gingerly after the horn. While Souza scored a slick trip early in the final frame, Hill continued to show her drastic improvements on the canvas, re-guarding and getting back to her feet with ease.

Just as it looked like Hill was poised for the upset, Souza dove on a guillotine choke. As Hill popped her head free, Souza rolled into an armbar, forcing the challenger to play defense through to the final horn and making this one close as it headed to the scorecards.

When the 10s and 9s were tallied, the result was a split decision, with two of the three judges seeing the bout for Hill, making the former Ultimate Fighter contestant the new Invicta FC strawweight champion.

Official Result: Angela Hill def. Livia Renata Souza by Split Decision (48-47, 47-48, 48-47).

Charmaine Tweet vs. Latoya Walker

With Invicta FC featherweight champ Cris Cyborg set to compete at UFC 198 next weekend in Curitiba, Brazil, this was a battle between a battle-tested veteran that has shared the cage with Cyborg and an undefeated, hyped prospect that hopes to do the same in the near future.

Right out of the gate, Walker came forward, unloading and connecting on Tweet, nullifying the Canadian's height advantage and looking poised to end things early. But the resilient Regina, Saskatchewan native weathered the storm and then brought the fight to a close in spectacular fashion.

With a little more than a minute remaining in the first, Tweet connected flush with a spinning backfist that stiffened Walker and sent her crashing to the canvas. Tweet pounced and unloaded with follow-ups, forcing referee Herb Dean to step in and stop the contest, giving Tweet her third straight victory and Walker the first loss of her professional career.

Official Result: Charmaine Tweet def. Latoya Walker by TKO (Spinning Backfist and Strikes) at 3:41 of Round 1.

Kaline Medeiros vs. Aline Serio

Originally scheduled to face Mizuki Inoue, Serio instead made her Invicta FC debut against fellow newcomer Medeiros, a Team Sityodtong representative who entered on a three-fight winning streak.

Despite taking the fight on less than a week's notice, this one was all Medeiros from start to finish, as the blue-haired Brazilian used her superior takedown skills to force Serio to defend and put her on the canvas multiple times. Following another big takedown early in the second, Medeiros unloaded with ground-and-pound, eventually moving to mount, forcing referee Mike Beltran to step in and wave things off.

This was a complete shellacking by Medeiros, who translated for Invicta FC at its last event and took this bout up two weight classes from where she normally competes, creating the possibility to making some waves across multiple divisions in the future.

Official Result: Kaline Medeiros def. Aline Serio by TKO (Strikes) at 4:04 of Round 2.

Megan Anderson vs. Amanda Bell

After picking up her first Invicta FC victory last time out against Amber Leibrock, Anderson returned looking to make it two-in-a-row opposite the ultra-aggressive "Lady Killer," who hadn't fought since last April after her January bout with Ediane Gomes was scrapped on the eve of the event.

This one looked like it was going to be done quickly as Anderson dropped Bell with a clean right hand right out of the chute, but the American weathered the storm and went on the offensive, dragging Anderson to the canvas and threatening with submissions. But once the fight returned to the feet, the rangy Australian unleashed with strikes again, connecting with a high kick and flooring Bell with a big shot on the horn at the close of round one.

Anderson dropped her Invicta FC debut in September 2015 and hasn't been home to the Gold Coast since, setting up shop in Lee's Summit, Missouri with the Glory Kickboxing team and showing steady improvement each time out.

Official Result: Megan Anderson def. Amanda Bell by TKO (Strikes) at 5:00 of Round 1.

Shannon Sinn vs. Christine Stanley

Originally scheduled to fight in January, Sinn and Stanley finally faced off inside the Invicta FC cage in this flyweight battle of fighters returning off lengthy layoffs, as the former hasn't fought since April 2015, while the latter last competed at Invicta FC 11 in February 2015.

Stanley came out firing and showing no regard for Sinn's striking, walking forward with her hands low, connecting with sporadic power shots throughout the opening five minutes. It was more of the same in the second for Stanley, who cracked home a high kick that staggered Sinn while continuing to press forward without concern.

Though Sinn was more aggressive and active in the third as Stanley began to fade, the damage was already done as Stanley did enough over the opening 10 minutes to earn the unanimous decision victory.

Official Result: Christine Stanley def. Shannon Sinn by Unanimous Decision (30-27, 30-27, 29-28).

Ariel Beck vs. Rachael Ostovich
Flyweight opponents that have each lost to Invicta FC standout Andrea "KGB" Lee squared off in this one, with fan favorite Ostovich rocking her patented Wonder Woman attire opposite promotional newcomer Beck in this one.

The southpaw Beck did a good job managing space and making Ostovich pay whenever they clinched, burying knees to the body and connecting with short elbows in tight. Early in the second, Ostovich looked for a hip toss, but couldn't complete it, leading to Beck landing in half guard and scoring with elbows.

However the Hawaiian weathered the attack, got back to her feet and secured a takedown in the center of the cage, where she quickly went to work on the canvas. After starting in Beck's guard, Ostovich eventually transitioned to back mount and went searching for a finish, first looking for the rear naked choke before adjusting and attacking for an armbar.

Ostovich couldn't get the finish and Beck came out firing to start the third, connecting with a series of hard strikes in space, hurting Ostovich. But just like in the second round, Ostovich survived and went on the offensive, landing a clean right down the pipe that bloodied Beck's nose before driving through a takedown and landing punches and elbows from top position.

After an entertaining third round, the decision rested in the hands of the judges, with Ostovich coming away on the happy side of a split decision.

Official Result: Rachel Ostovich def. Ariel Beck by Split Decision (29-28, 28-29, 29-28).

Alexa Conners vs. Laura Howarth
The bantamweight opener was also the professional debut for South Carolina's Conners, who trains alongside UFC contender Sara McMann at Revolution MMA. Portsmouth, England's Howarth entered with a 2-1 record, with all three bouts coming under the Cage Warriors banners, and was back in action for the first time in nearly two years on Saturday evening inside The Hangar.

Contested exclusively on the feet and entirely at range, Conners dictated the terms and landed the more significant strikes over the first two rounds. While Howarth connected with a spinning backfist to start the third, the debuting Conners ate it without issue and went right back to corralling Howarth and connecting with the crispier punches and kicks.

Despite being kept along the cage for the majority of the fight, Howarth got the nod by split decision, with two of the three judges favoring her body kicks to the constant forward movement and greater volume of Conners.

Official Result: Laura Howarth def. Alexa Conners by Split Decision (29-28, 28-29, 29-28).