It's been a whirlwind week for UFC lightweight champion Anthony Pettis – and it's only the beginning.
After winning the Wheaties Next challenge on Monday, Pettis was off on a plane to New York City for the official photo shoot with the cereal giant. On Tuesday and Wednesday the champ is fulfilling media obligations before heading to Connecticut to take in the action of Fight Night Foxwoods on Friday.
Pettis, now officially the first MMA fighter to appear on the cover of a Wheaties box, said the hectic schedule is all part of being the face of the UFC – an honor he takes very seriously.
"Honestly, I love the fact that I'm going to be on the Wheaties box, but the main thing is how big it's going to be for our sport," Pettis told UFC.com on Wednesday. "Guys like Michael Jordan, Tiger Woods, Muhammad Ali - the who's who of champions - have been on this box, and now that they're recognizing mixed martial arts and athletes like myself on the box it's only going to make the sport grow that much more. "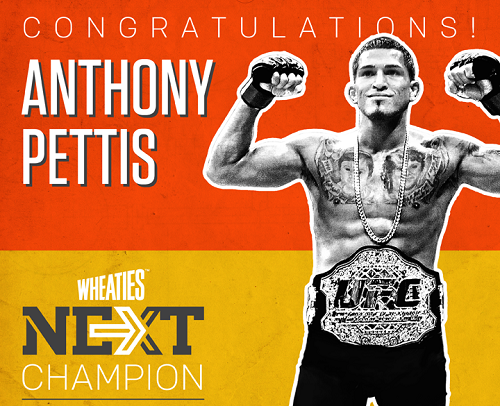 At only 27 years old and just entering the prime of his career, Pettis was an easy choice for the Wheaties contest. He exemplifies what it means to be a fighter and a champion, and UFC president Dana White tabbed Pettis right off the bat.
"Dana White had a lot to do with it. Wheaties approached the UFC and said they wanted to have one of the athletes and potentially put them on one of the boxes, and this was back in springtime," Pettis said. "I was just coming off my win over [Benson] Henderson and Dana called me and said, 'Hey, I want you to be our athlete and the box is coming out Jan. 1. It makes sense with your title defense.' So they chose me."
After suffering a serious knee injury against Henderson, Pettis has been anxious to get back inside the cage to defend his belt. The Milwaukee native said it's been a frustrating layoff, especially considering how well he performed in his last three fights, all first-round finishes.
But Pettis is now back to 100 percent health and training for his first title defense against No. 1 contender Gilbert Melendez in December. Pettis said he's focused on retaining his belt.
"Gilbert Melendez is the only guy I'm worried about. If I look at my whole division and look at performances and think whose next, I'd go crazy," Pettis said. "There's so many good guys in my weight class, but Gilbert Melendez is the number one contender. He's earned his shot and that's all I'm worried about."
Melendez has been very vocal about how confident he is facing the champion. He has been quoted as saying he'll walk right through Pettis' kicks on his way to the win.
Pettis found Melendez's opinion humorous.
"That makes me laugh," he said. "A kick or a punch at the right time in the right place - nobody can walk through that. I don't care what weight class you're in you can't walk through one of my kicks."
And as far as Pettis' critics go, the champ is planning on proving all of them wrong when he steps back into the Octagon in December.
"MMA fans are really short-minded. There's so many other UFC fights that everyone gets comfortable thinking that everyone has to fight four times a year," he said. "But you only fight as much as your body allows you to, and I've put my body through a lot to get to this position. I'm willing to take my time to get to this next fight.
"So I get motivated by everybody pretty much forgetting what I did in my last three fights. December 6th is right around the corner, and I guarantee you after that fight I'll be back and everyone will be on the Anthony Pettis train again."