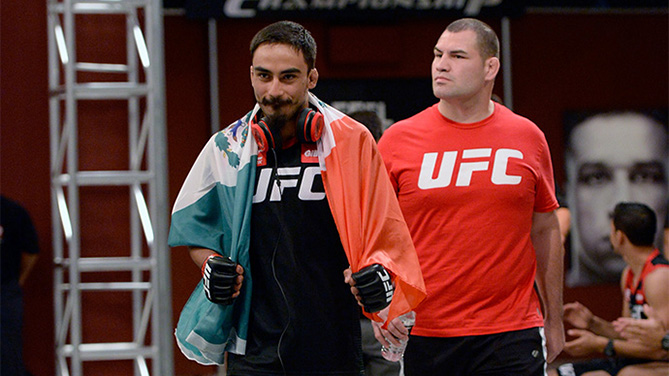 Before the sixteen fighters have enough time to take in the Ultimate Fighting training center, Dana White comes in with the coaches Cain Velasquez and Fabricio Werdum. Dana is especially excited for this season because TUF serves as a way to spread knowledge of MMA throughout the world. This time, he'll be spreading that gospel with bantamweight and featherweight fighters from Mexico and Latin America. We move right to the coin toss and Team Mexico wins. That gives Cain Velasquez control of the first pick which he will make after a couple days to assess the team.
The fighters leave the training center and get settled into the house. Team Mexico remarks that they seem to get along better than Team Latin America. They attribute it to the fact that they are familiar with one another from the regional circuit in addition to the fact that they share a common culture. Well, they better but that teamwork to good use because the Latin Americans left a whole lot of dishes for them to clean. They dutifully do the dishes, and leave a "friendly note." They also use the Mexican flag to cover up all the other nations. That wasn't quite so friendly.
Luckily, Team Latin America comes back and takes both the note and the flag display as an insult (Coach Werdum appreciates consistency). As Team Velasquez trains, Gabriel Benitez rolls his ankle. He was going to be the first combatant for Team Velasquez, but his injury throws a wrench into those plans. Instead, they choose Jose Quinonez to represent Team Mexico against Bentley Syler.
Back at the house, it turns out that "Doctor Bolivia" isn't just Bentley's comic beer hero name -- he's actually studied medicine. The problem with being the only doctor in the house is that you're going to get a whoooooole lot of questions. Bentely takes them all in good fun (even the dumb ones), and proves to be a valuable part of the team. Maybe the Mexicans were off base with their assessment of Team Latin America.
As Bentely doles out some advice, Jose grooms his mustache. He's quite proud of his facial hair and uses it as an ode to Mexican revolutionary Emiliano Zapata. Jose discusses his upbringing and how he wants to show people that someone raised from poverty can one day rise to be in the UFC. One thing Jose continues to struggle with, though, is his weight. He came into the house with nearly 20 lbs to lose and still has some more to go before weigh-ins. He cuts it close (and has to lose his underwear in the process), but the bantamweight show will go on. It's fight time!
> Check out Team Velasquez supports Jose Quinonez
ROUND ONE
Jose has a distinct size and reach advantage, and uses his long legs to kick from distance. Bentley responds with some low kicks of his own. Jose's aggressiveness gets the best of him, and Bentley scores the takedown. He can't keep Jose down, though, and the two clinch against the fence. They break the clinch and return to the center of the Octagon. Jose attacks with his lead leg again, and starts to charge forward. A quick right, left combo drops Bentley. The doctor gets to his feet and shoots a takedown to earn some recovery time, but Jose counters.
Once in top position, Jose starts bringing the ground and pound. He connects with brutal punches and opens some gashes on Bentley's face. Bentley makes it back to his feet with just over two minutes to go, and he doesn't show any signs of slowing down. Jose answers the pace and keep coming forward. They two exchange punches and Bentley gets stunned again. Jose pounces, and this time, he's not letting his opponent up. He flurries from top position and the ref stops the fight with 32 seconds to go.
>Photos from the first episode of The Ultimate Fighter Latin America!
Team Velasquez has control and they'll have Gabriel Benitez represent their team against Diego Rivas. We close the episode with a sneak peek into next week's episode. Can Team Werdum get in the win column? Will Gabriel's ankle bother him? What new Latin underwear dances will we see? Find out this and more next week on The Ultimate Fighter!