This week's episode focuses immediately on the next fight between Marlon "Chito" Vera and Henry Briones. Team Mexico fully expects Henry to continue their undefeated streak. Not only that, they believe that Chito is mentally broken. He stared at the ground during the pre-fight stare down and the Mexicans take that as a sign that the pressure has gotten to the Ecuadorian. The youngest fighter on Team Latin America, Chito knows that he has a responsibility to his team. It's time for him to step up.
Chito may have a duty to his teammates, but that pales in comparison to the pressure he feels at home. His daughter was born with Moebius Syndrome, a rare neurological disorder that causes facial paralysis and makes her unable to change her expressions. There's a surgery to correct the problem, but it costs $50,000. If Chito wins The Ultimate Fighter, he'll use the money to pay for the operation. He knows that Henry will be a challenge, but he believes in himself. He plans on controlling the distance, use a lot of kicks and then move in for the takedown. Chito thinks that he holds the superior jiu jitsu and that will lead him to victory.
> Watch: Meet Team Werdum's Marlon Vera
Back at Team Velasquez, we learn Henry has a wife and two children of his own to support. His key to victory will be his boxing. Even Coach Cain (someone who knows a thing or two about punching hard) comments on how heavy Henry's hands are. As we watch him hit the punching mitts, Henry seems to be focusing on using his overhand right. As Henry prepares for the fight Diablito and Teco prepare for spring break. The tequila flows and we all know what leads to -- camping outside. Ok, maybe that only happens on The Ultimate Fighter, but the nasty hangover the two have the next morning is universal no matter what country you call home. Before you have enough time to learn how to say "hair of the dog" in Spanish, it's fight time!
> Watch: Meet Team Velasquez's Henry Briones!
ROUND ONE
Chito sticks to his gameplan as the first round begins. He maintains distance, attacks with his kicks and hits the takedown. He can't hold Henry down, though, and the two are soon back on their feet. Chito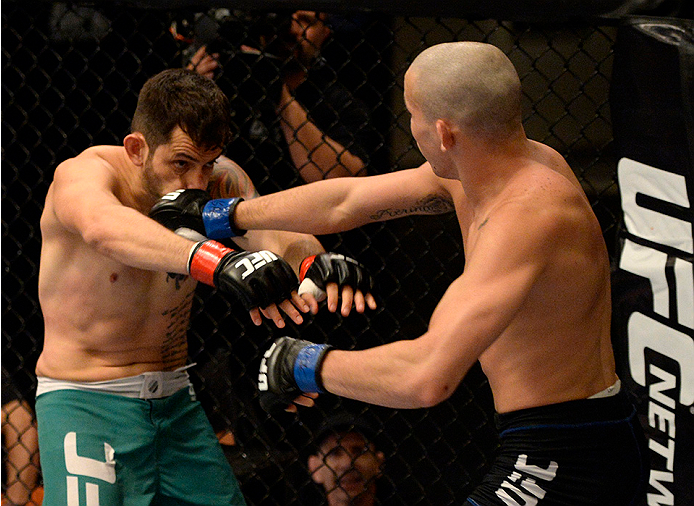 keeps the pressure and forces another tie-up. He reaches for a hip toss, but Henry defends. After Henry starts to connect with some of his own strikes, and Chito realizes more than ever that he wants this fight on the ground. After a desperate takedown attempt, he decides to pull guard. It turns out to be a tactical error. Henry takes top position and doesn't relinquish it. He drops short elbows and punches and shrugs off submission attempts. Chito finally gets some little traction with a leg lock attempt and rises back to his feet. Henry quickly pulls for a guillotine and Chito is on his mat again. Chito reaches for a heel hook, but time expires before he can advance.
ROUND TWO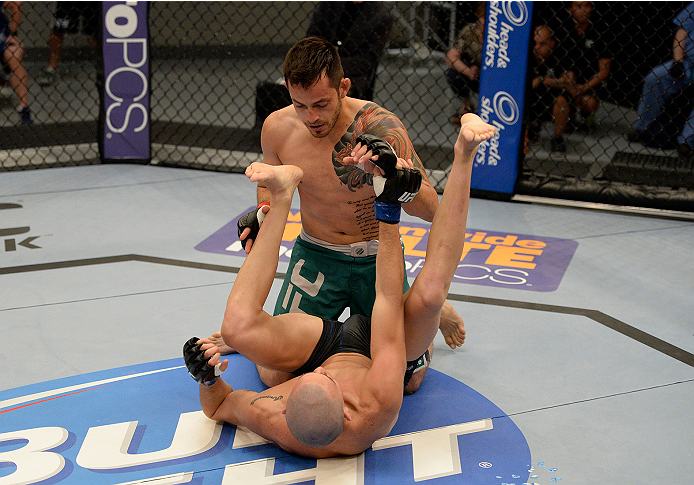 The two fighters waste no time starting the second round. Chito keeps using his leg strikes while Henry searches for a home for that big, right hand. Chito gets caught pausing and Henry charges through with a takedown. He's unable to recreate his successes from the previous round, and Chito makes it back to his feet. He can't get away from Henry's grasp, though. The Team Mexico fighter smothers Chito against the fence and works his dirty boxing. Chito reaches for a kimura throw, but gives up another takedown. Henry stacks Chito up looking for more ground and pound. Instead, a well-placed up-kick lands flush across Henry's jaw. He drops to the canvas and Team Latin America picks up their first win in surprising fashion.
> Check Out the Rest of the Photos from this Fight!
The Latin Americans erupt in cheer, Team Mexico sits and stunned silence and UFC President Dana White says, "That was legit. Wow!" Coach Werdum finally has a smile on his face, but he doesn't have time to rest on his laurels. For the first time this season, he can choose the fight. It will be Colombian fighter Alex Torres taking on Team Mexico's Rodolfo Rubio.
We wrap up with a sneak preview. Does Daniel Cormier get Team Mexico back on track? Why is Coach Werdum so upset? Where's the tequila? Find out this and more next week on The Ultimate Fighter!
Watch Past Episodes

Episode 1 | Episode 2 | Episode 3 | Episode 4 | Episode 5