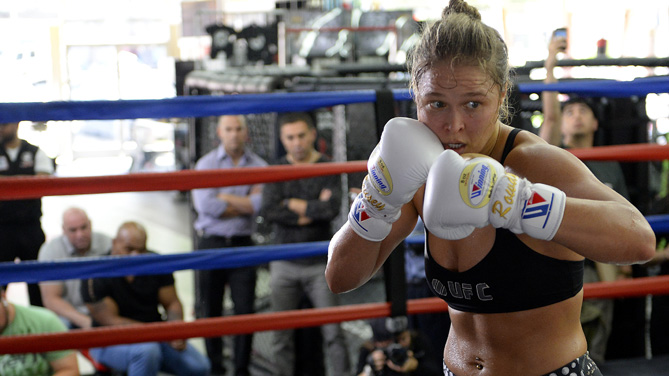 Ronda Rousey has her next challenge queued up in less than two weeks.
For the first time in her MMA career, the dominant women's bantamweight champion will venture outside the United States for a fight when she headlines UFC 190 in Rio de Janeiro on Aug. 1 on pay-per-view.
But even though Rousey (11-0 MMA, 5-0 UFC) no doubt has
Bethe Correia
(9-0 MMA, 3-0 UFC) squarely in her sights, it may be a while before the questions about
Cristiane Justino
stop coming her way.
"Cyborg" Justino (14-1), the Invicta FC featherweight champion, was also the 145-pound titleholder in
Strikeforce.
Rousey was a 145-pounder, but moved down to 135 four fights into her career.
Her critics, particularly from the "Cyborg" camp, say she dropped to 135 to avoid a matchup with Justino. But now that Rousey is the most dominant fighter in the world, let alone the most dominant female fighter, this past week she reiterated she has no intention of heading back up in weight to face "Cyborg." Instead, as she has maintained for years now, Justino should have to come down to 135 to face her if that's a fight she's looking for.