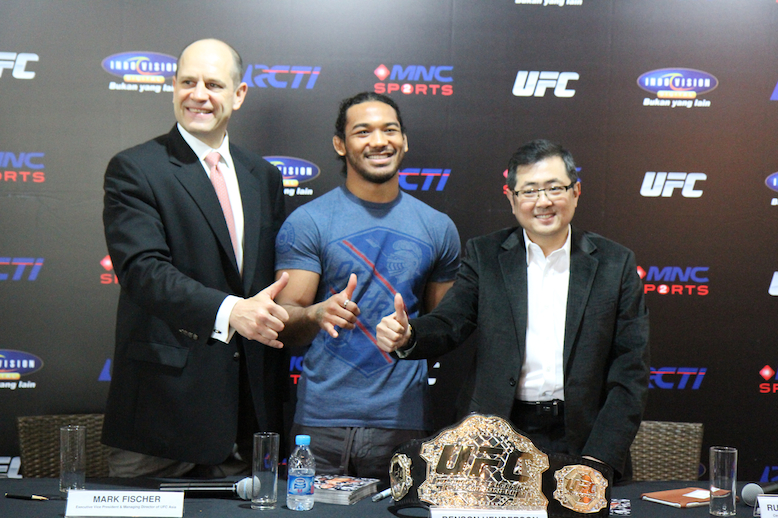 Jakarta (January 28, 2013) – Continuing its global expansion, the Ultimate Fighting Championship® (UFC®) announced plans to break further into the Asian market through a partnership with Jakarta-based MNC Media. The partnership will bring UFC programming on MNC Sports to the world's fourth-most populous country, home to 238 million people. UFC and MNC will work together to bring live UFC events to Jakarta and throughout Indonesia, and will create a Fighter Development Program (FDP) to develop talent locally and further grow the sport of mixed martial arts.
"We're delighted to partner on these initiatives with MNC Media, by far Indonesia's No. 1 integrated media group, and very excited about growth prospects here," said Mark Fischer, UFC Executive Vice President and Managing Director of UFC Asia (pictured above [left], with UFC lightweight Benson Henderson [center] and MNC's CEO Rudy Tanoesoedibjo [right]). "Our partnership with MNC Media will bring our wide range of UFC programming to tens of millions of potential new UFC fans throughout Indonesia, while also developing our sport in this vast market."
As part of the strategic partnership, MNC Media and the UFC will launch a Fighter Development Program (FDP) in Indonesia in February. The first phase will consist of the FDP tryout on March 9 and 10, 2013 inviting experienced martial arts practitioners to compete for spots in the next phases of the program. Those selected will then participate in a Training Camp in Jakarta, which will further narrow the pool down to the very top UFC candidates that Indonesia has to offer. Finally, eligible participants will travel to the United States for coaching by elite MMA trainers, with the aim of competing in future UFC event.
"UFC and MNC Media Group are committed to supporting the growth of mixed martial arts through creating world-class Indonesian UFC fighters," said Rudy Tanoesoedibjo, MNC Sky Vision CEO. "Meanwhile, with a strong, market-driven content offering, UFC and MNC will present an increased selection of the highest quality programs for Indonesia's viewers."
UFC lightweight champion Benson "Smooth" Henderson who was in Jakarta for the announcement of the partnership said, "I'm so excited about the UFC expanding to Indonesia, such a big new market for the sport of MMA. The UFC-MNC Fighter Development Program will bring new opportunities for Indonesian fighters to hone their skills and pursue their dreams. Everyone knows that martial arts were born in Asia, now it's time to create UFC world champions from Asia!"
"The presentation of UFC on RCTI will provide more variety on this channel for martial arts fans," said Kanti Mirdiati, RCTI Managing Director. "Our UFC programming goes on air in February 2013 and will bring new color to Indonesia's television content, which is too valuable to be missed."
"MNC Sports will fulfill the needs of mixed martial arts fans by showcasing a wide range of UFC programs," said Lala Hamid, MNC Group EVP. "MNC Sports will broadcast The Ultimate Fighter® reality show, UFC Pay-Per-View events, and other UFC programs such as Countdown, UFC magazine shows, and the Unleashed program in MNC Sports 2, channel 102 on Indovision. We are confident that through this excellent partnership, UFC will become a favored program among all Indonesian mixed martial arts fans, and eventually all sports fans."