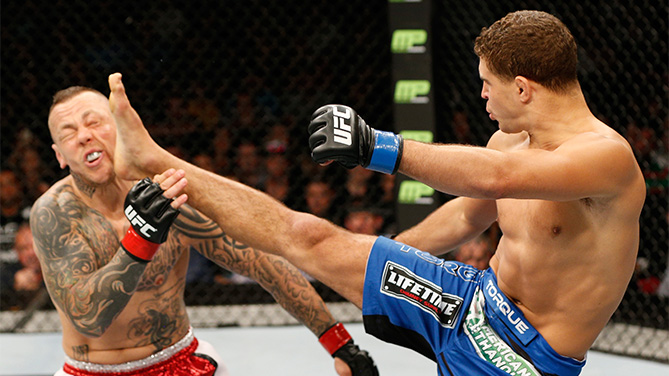 Al Iaquinta didn't know exactly what was going on in the Octagon Friday, Nov. 7 as he warmed up in the locker room for his co-main event against Ross Pearson in Sydney, Australia, but he did have a feeling it was something special.
"I didn't know that all the fights were getting finished, but the energy in the place was awesome," he said. "Everyone coming back to the locker room had real positive energy, and you could definitely feel the vibe in the air."
That vibe had to do with knockout after knockout and submission after submission thrilling the crowd at Allphones Arena. By the time Iaquinta got the call to enter the Octagon, each of the nine previous fights had been finished before the judges had a chance to get involved, and if the Iaquinta-Pearson fight ended before the final bell, the UFC record for most finishes on a single card – held by the UFN 13 and UFC on FUEL TV 10 events – would be tied.
No pressure, Al.
"They didn't tell me that," he laughs. "And thank God, because that might have got in my head a little bit."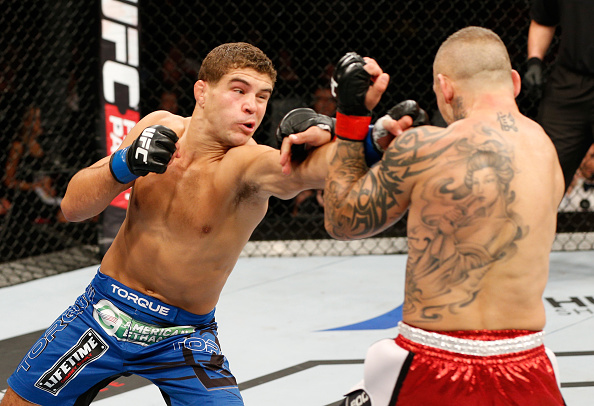 Probably not, because the Iaquinta that showed up against Pearson was the same one that fought and stopped Rodrigo Damm in September. Well-prepared, focused, and ready to do whatever it took to win. And at 1:39 of the second round, Iaquinta picked up the TKO victory. One fight later, Luke Rockhold finished Michael Bisping via submission breaking the UFC record Iaquinta tied.
> Watch Fight Night Sydney on UFC FIGHT PASS!
11 fights, 11 finishes. And the crowd goes home happy.
UFC Fight Night in Sydney was one of the most buzzed about events of the year, with the euphoria from the card lasting well into the following week. But the effects of that night may be felt throughout the rest of the year and into 2015 and beyond, because it appears that the new breed of UFC prospects are intent with taking matters into their own hands on fight night.
"A lot of these fans, especially the hardcore fans, they love and adore the older veteran fighters like Shogun (Rua) or the Nogueira brothers, and those guys are icons and legends of the sport," Iaquinta's Serra-Longo Fight Team squadmate Aljamain Sterling explains. "So when you're coming in and want to become something like that for people, you gotta really be out there putting on a show and giving the people something to gravitate to and something to remember. And I think a lot of us are doing that. We have that new kid Jake Matthews, you've got Al and me just finishing fights, and even that new prospect Thomas Almeida, he's in my weight, and I definitely keep my eyes on all the newcomers because I know at some point we're going to be bumping heads down the road. It's an exciting time for sure."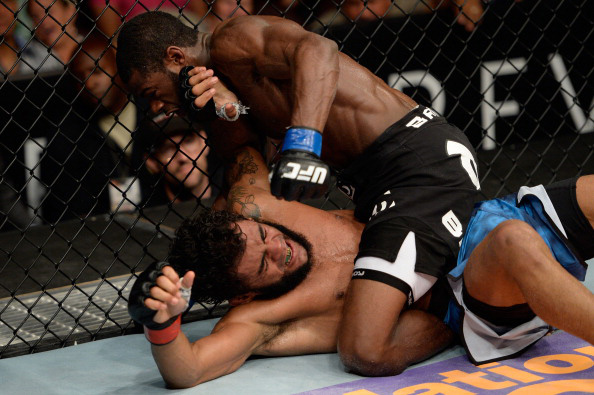 Sterling, who was scheduled to fight on the Sydney card, saw two opponents fall out, leaving him without a dance partner. But he still made the trip Down Under to support his teammate and also watch fighters like Matthews, the second youngest competitor in the UFC, finish Vagner Rocha in the second round. The next night in Uberlandia, Brazil's unbeaten Thomas Almeida made his UFC debut against Timmy Gorman, and while he didn't finish the American, it wasn't from a lack of trying, and his efforts earned Fight of the Night honors.
Simply put, the young and hungry members of the UFC roster want what the legends have, and they're putting it all on the line to get it because fans will remember someone with two exciting finishes more than one with 10 boring decisions.
"A lot of people win fights, but if you're going out there and finishing guys, it's that much more of a feather in your cap, especially if you're fighting on TV for people to see," Sterling said, and even though he's just two fights into his UFC career, he's seen that his third-round TKO of Hugo Viana in July garnered more attention than his debut decision victory over Cody Gibson in February. "I notice a bigger difference when people talk about my first two fights, and that it's definitely more positive for my last fight with Hugo."
As far as Iaquinta is concerned, fighters have to remember that while MMA is a sport, people want to have a reason to get excited as well, and the surefire way to get a pop from the fans is to knock out or submit an opponent.
"It's the evolution of the sport, and this generation realizes that it's not just a sport," he said. "It's also entertainment and people don't really want to see guys who are just squeaking out decisions. Don't get me wrong, there are exciting decisions, but our generation is trying to get those ones, the exciting ones, rather than having the mindset of just getting the W as easy as possible. We want to get the crowd into it."
But what does it take to finish a UFC-caliber opponent? At this level, everyone can fight, so what separates the finishers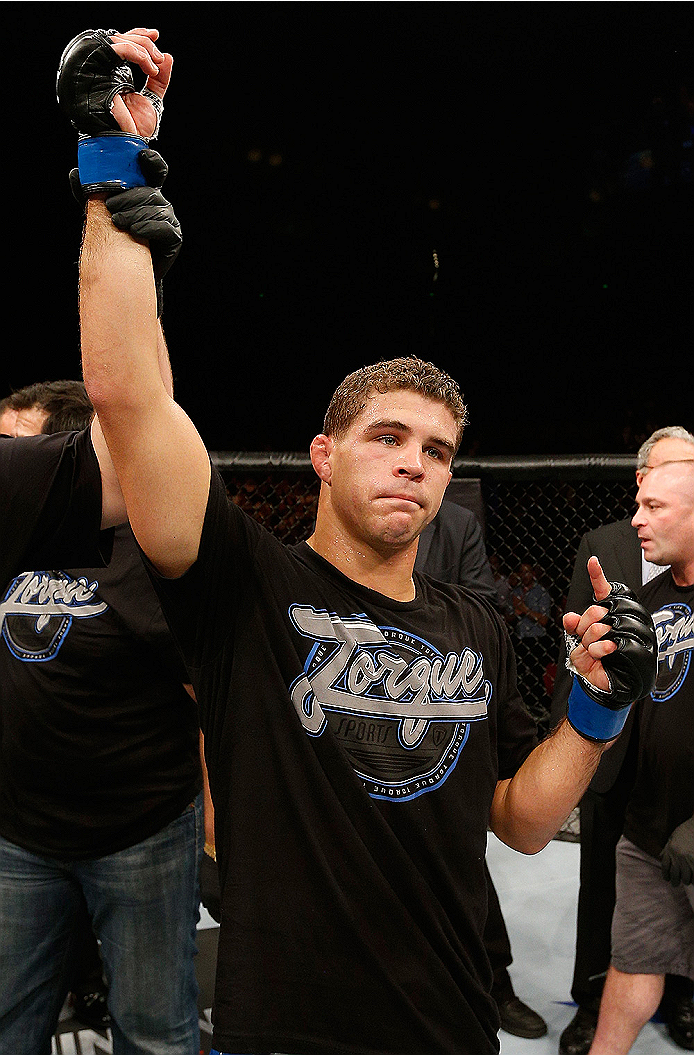 from the rest? It's not luck, but it may just be a mixture of mindset and being willing to take the risks necessary to take out your foe. Sounds simple, but when a job could be on the line, being safe is the route that many take on fight night. But the young and the bold, they not only want to win, but they want to leave no doubts.
"I don't go in there to specifically get the finish," Iaquinta explains. "I go in there to have fun and do everything that I
trained to do. And usually when you do that, it raises the chances of you getting the finish for sure. But it is fighting. You're gonna get hit and you're gonna hit them, so anything can happen. And when you're at a certain level, it only takes one mistake, so you have to capitalize on every mistake that they make because at the highest level, your opponent's not going to make too many mistakes."
"The risk (of going for a finish) can be you getting caught, and that can be the difference between you winning the fight and you being on the bottom position being grinded out by a guy just trying to get it to a decision and saying he lasted," Sterling adds. "It's a fight. If you look at a street fight, a lot of them don't last long, so how can go into a 15 or 25 minute fight and not one person could get the finish? Because if you're really gunning for it, someone is going to get finished. My mindset is live by the sword, die by the sword, and I'm gonna gun for it every single time because that's just more exciting. I want to say that I finished and dominated everybody. There are no questions. I want to be the guy who's the definitive winner."
And more often than not, who dares wins.